April 12th, 2010 by tisner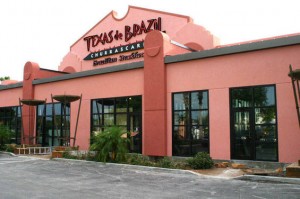 Experience the difference in Orlando of dining at Texas de Brazil. 
This is one restaurant you will not want to miss in Orlando.  Texas de Brazil is fashioned after the Gauchos, or the South American cowboys.  Traditionally they would prepare a feast for their families of different types of meat cooked over an open pit.  They would then bring the meat around to serve.  The meats were served with seasonal vegetable dishes, along with rice and beans. 
Your dining experience at Texas de Brazil will include a 50-60 item seasonal salad area including appetizers, soups, salads, and traditional side items.  When you turn your card to green you will be amazed at how quickly a troop of carvers come to serve you various cuts of seasoned beef, lamb, pork, chicken, and Brazilian sausage. 
To complete you dinner order one of their many dessert selections, then sit back and relax with an after dinner drink, cup of espresso, or a hand rolled cigar in the ambiance that is Texas de Brazil.
Bring a hearty appetite and a few friend for a memorable evening out in Orlando at Texas de Brazil.
Google+ Comments