July 16th, 2020 by tisner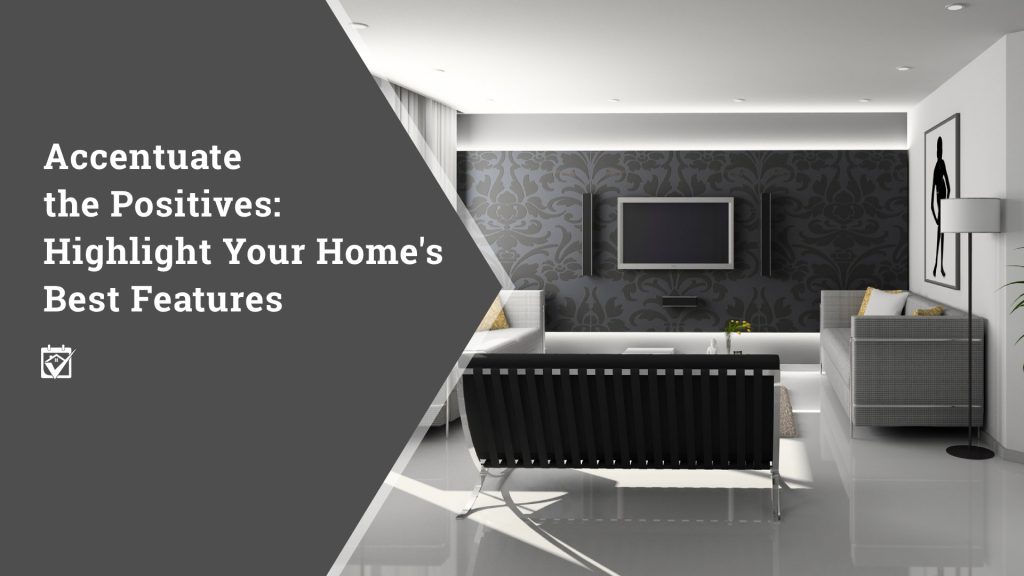 Your home's a looker, so why aren't you doing all you can to point all the attention at its best features? Maybe you're afraid that drawing so much attention to the details will leave your friends jealous, or maybe you just need some ideas for how to make those interesting details even more obvious. Either way, there are plenty of tricks you can use to accentuate the positives in your home.
Painting to Perfection
Paint is just one way to make your home's best features shine, and there are all kinds of methods to make this happen. You don't have to be a professional painter to get a lot of mileage out of some basic attention-getting paintwork, though hiring a pro can certainly help you get exactly the effect you've got in mind.
One easy way to catch the eye is to paint an accent wall, a wall or a section of a wall that's a different color than the rest of the paint in a room. The accent wall's location and color will really affect how well it does its job, but if you have a wall with a feature you want people to look at, it's safe to assume that would make a good accent wall. In addition, painting the inside of a bookcase or alcove a different color than the main wall color can also get serious looks.
Another way to make paint an absolute neon sign is to use it to draw out the details in interior or exterior trim. If your millwork is relatively simple, a basic white can really grab attention. If there's extra fancy trim involved, try using different colors to offset the trim's different levels of detail.
Light It Up!
There's no easier way to highlight something specific than by putting an actual spotlight on it. Got a great mantlepiece? Point a spotlight on it so you can really draw attention to it, especially after dark. Spotlights are great for art, murals, alcoves and other good features in your home. Just be aware of their location and proximity to things like windows that might make a spotlight a little less wow.
You could also install other accent lighting, such as LED strips, on the underside of a floating cabinet, around a particularly interesting mirror or trim piece or within a cutout in your room. This can bring a little more focus on the things you're doing with that space. When in doubt, light it out… err… up.
Make Some Space
It may sound simple, but one of the best ways to draw attention to the great stuff in your house is to get rid of a bunch of other stuff in your house. When you have too many interesting things in one room, it gets visually overwhelming quickly! So instead of storing all your collectables in one exceptional built-in, for example, just pick a few of your best to display so you leave plenty of negative space for contrast.
Eliminating bulky furniture, excess accent pieces and even pictures can also help the eye move to the architectural details. There's a lot to be said for decluttering if you really want your house to stand out. Keep pieces that mimic or have features or styling in common with what you want to accent, and move out those that seem to clash with the details in question.
Need a Little Help Finding the Positives?
Not everybody has an eye for details, but some people do it every day. If you're struggling to figure out how to really put a point on the hand carved details in your woodwork or aren't sure which wall should be your accent wall, you're not alone. Log into HomeKeepr for help locating the best painters, interior designers and other home pros in your area.
Access Teri's one-stop Orlando FL home search website.
Teri Isner is the team leader of Orlando Avenue Top Team and has been a Realtor for over 24 years. Teri has distinguished herself as a leader in the Orlando FL real estate market. Teri assists buyers looking for Orlando FL real estate for sale and aggressively markets Orlando FL homes for sale.
You deserve professional real estate service! You obtain the best results with Teri Isner plus you benefit from her marketing skills, experience and ability to network with other REALTORS®. Your job gets done pleasantly and efficiently.  You are able to make important decisions easily with fast, accurate information from Teri. The Orlando Avenue Top Team handles the details and follow-up that are important to the success of your transaction.
Get Orlando Daily News delivered to your inbox! Subscribe here!
By: Homekeepr, Rob Morelli
Google+ Comments