June 23rd, 2006 by tisner
Anguilla Beaches in the British West Indies
The best known beaches on the island of Anguilla in the British West Indies.
Come2Anguilla where there's beach after beach after beach to enjoy
These are the names of Anguilla's white powdery beaches. There are many of them, so this list goes on for a while…
Barnes Bay, Blackgarden Bay, Blowing Point, Captains Bay, Cove Bay, Elsie Bay, Corito Bay, Crocus Bay, Dog Island, Dropsey Bay, Forest Bay, Island Harbour, Junks Hole, Katouche Bay, Limestone Bay, Little Bay, Little Harbour, Lockrum, Long Bay, Maundays Bay, Meads Bay, Merrywing Bay, Mimi Bay, Prickley Pear, Rendezvous Bay,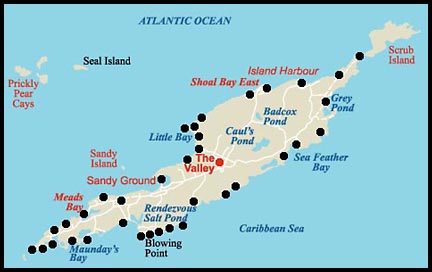 Road Bay, Sandy Ground, Sandy Hill Bay, Sandy Island, Sandy Point Bay, Savannah Bay, Scilly Cay, Scrub Island, Sherricks Bay, Shoal Bay, Shoal Bay West, Sile Bay, Turtle Cove, West End Bay, Windward Point Beach….
This list of Anguillan beaches can be found at http://www.beaches.ai/ Pictures of most of the beaches are available on this website, too, with just the click of a mouse.
Another click of a mouse brings you to the website of The Anguilla Top Team, real estate professionals with wisdom, knowledge and integrity. It is http://www.come2anguilla.com On this website is information on Anguilla and information on the beautiful villas for sale.
Google+ Comments