May 8th, 2015 by tisner
Buying is 38% cheaper than renting. That statement reflects Trulia's Winter Rent vs. Buy Report. "Although the gap between renting and buying is narrowing across the U.S., homeownership is still 38% cheaper than renting."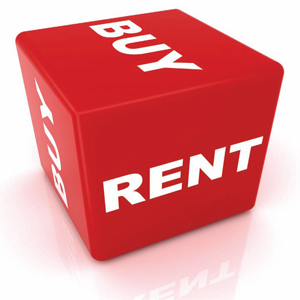 When evaluating buying a home vs. renting you need to understand the local math. Although the national average is 38% cheaper for buying vs. renting, the range across the country is from 5% cheaper to 66% cheaper.
The Trulia report concludes that there is nowhere in the US that buying a home is not cheaper than renting. However, the percentage of difference does vary widely. That is because there are variables that depend on local circumstances such as:
Local home values
Local rents
Mortgage interest rates
Rates of value appreciation
If you really want to understand the detailed numbers go to the full report.
You can also go to Trulia's Rent vs. Buy Calculator that allows you to plug in your local variables.
Borrower's credit score is another factor you need to take into account when evaluating your situation. Mortgage interest rates are perhaps the most important variable in the buy vs. rent calculation. One of the factors that affects interest rates the most is the borrower's credit score. The lower your credit score the higher the interest rate you will pay.
The monthly payment on a $200,000 loan for 30 years increases by $60.27 for every 0.5% added to the interest rate. That means the decision about whether to borrower using a variable interest rate (such as an ARM) or a fixed interest rate over the life of the loan is very important.
The Trulia report also evaluates the "tipping point" for interest rates that will cause renting to be cheaper than buying. For the national average that leads to the 38% figure the mortgage interest rate would have to rise to over 10%. However, you should look at local factors involved for a home using the Rent vs. Buy Calculator.
You can follow this link for the current Forbes.com interest rate forecast. You can also find current mortgage interest rates at bankrate.com.
Current indicators are that both home prices and interest rates are going to rise steadily over the next five years. That is good news for potential buyers, and means now is a good time to buy. However, if you're hoping to become a homeowner anytime soon use these tools to do some research.
Information courtesy of Orlando Realtor Teri Isner.
Access Teri's one-stop Orlando FL home search website.
Teri Isner is the team leader of Orlando Avenue Top Team and has been a Realtor for over 24 years. Teri has distinguished herself as a leader in the Orlando FL real estate market. Teri assists buyers looking for Orlando FL real estate for sale and aggressively markets Orlando FL homes for sale.
You deserve professional real estate service! You obtain the best results with Teri Isner plus you benefit from her marketing skills, experience and ability to network with other REALTORS®. Your job gets done pleasantly and efficiently. You are able to make important decisions easily with fast, accurate information from Teri. The Orlando Avenue Top Team handles the details and follow-up that are important to the success of your transaction.
Get Orlando Daily News delivered to your inbox! Subscribe here!
Google+ Comments