November 28th, 2023 by tisner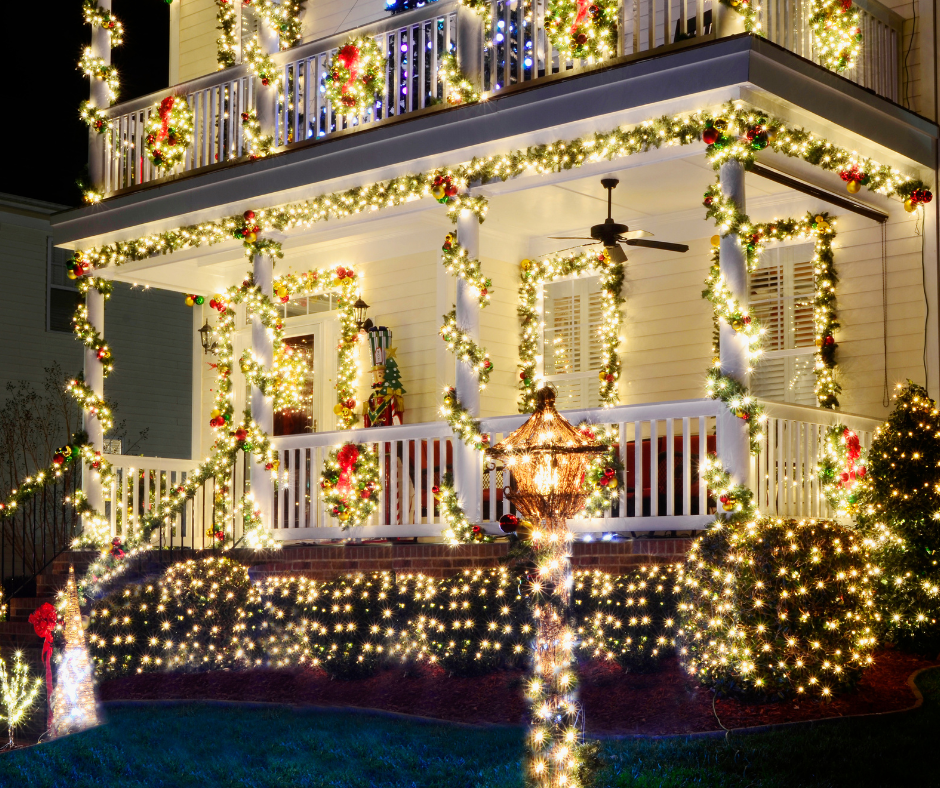 It's time to get the holiday house decorating in high gear, and you may have bought new light strands, but plan on mixing them with ones you have, or adding LED lights.  Safety is important this time of year, and making the days merry and the nights bright means taking a few precautions. 
Check your old lights for frayed wires, nicks or cuts along the outer cord, and broken bulbs. Broken bulbs can be replaced, but toss the frayed strands, or those with cuts.

 

Decorating the exterior of your house means the lights you use must be made for outdoors.  Check the packaging or tag on the string to make certain.

 

Use clips or hangers that are UL-approved–do NOT nail, tack, or staple lights to any fixture.

 

If you'd like to light a tree in your yard, make absolute certain no power lines run through the branches, and keep any lighting at least ten feet from power lines.

 

Make sure your extension cords are specifically made for outdoor use, and have a three-pronged ground plug.  Your receptacle should be a ground fault circuit interrupter (GFCI) outlet in case of electrical overload, it will shut off power.  Portable outdoor GFCI's are available for very little cost at Amazon.

 

Read and heed all labels when it comes to connecting strings of lights.  If the label says only three can be connected to one another, start a new chain of lights after the third strand is in place.  Also keep in mind that only strands with the same number of bulbs should be connected–in other words, don't connect a 100-strand with two 25-strands.

 

Keep extension cords away from high-traffic areas, and out from under welcome mats or pavers.

 

Many people start decorating long before Christmas, but be aware that most non-commercial light strands are only safely exposed to the elements for 90 days.  Any longer, and deterioration to the insulation will begin.  

 

Avoid using a metal ladder if you're having to get up high with your lights–use wooden or fiberglass instead.

 

Never leave lights on when you're not at home, or asleep.  

 

If you're considering adding LED's to your holiday display, make sure you don't mix connecting with incandescent.  Going all-LED will be costlier upon start-up, but will save money on your power bill, as well as in replacement costs–LED's can last up to twenty years.

 
You don't want a friendly neighborhood competition to turn into disaster, nor do you want a classic Clark Griswold power outage at home.  Know your home's electrical limits, and use common sense and care while you're decorating. 
Access Teri's one-stop Orlando FL home search website.
Teri Isner is the team leader of Orlando Avenue Top Team and has been a Realtor for over 24 years. Teri has distinguished herself as a leader in the Orlando FL real estate market. Teri assists buyers looking for Orlando FL real estate for sale and aggressively markets Orlando FL homes for sale.
You deserve professional real estate service! You obtain the best results with Teri Isner plus you benefit from her marketing skills, experience and ability to network with other REALTORS®. Your job gets done pleasantly and efficiently.  You are able to make important decisions easily with fast, accurate information from Teri. The Orlando Avenue Top Team handles the details and follow-up that are important to the success of your transaction.