November 29th, 2007 by tisner
Celebration Florida Booster Club Social
Celebration Florida Booster Club Social

The Celebration Florida Boosters are planning a holiday meeting and social to raise money for the Athletics Dept. at Celebration Elementary K-8 and for Celebration High School. You will need to make reservations for this event held downtown Celebration at
The Celebration Town Tavern on Tuesday Dec. 4th at 6pm.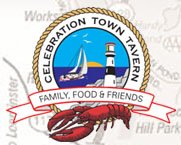 Celebration Town Tavern is located at 721 Front Street.
I have to admit this reminded me of a Jay Leno headlines since connecting anything from a school to the town tavern seemed interesting. The Celebration Town Tavern does have a beer club, but as the saying goes Everyone is welcome. It did put a smile on my face but don't worry I wont be sending the annoucement to the the Tonight Show.
Anyway hope all Celebration Florida Booster Club fans are able to turn out for this event that features a complimentary dinner with beer, a silent auction, door prizes and lots of fun. You need to reserve your space by contacting Susan Bona at susan.bona@celebration.fl.us.

The Celebration Town Tavern offers alot of family food and fun atmosphere. You can read about the history or the beer club, or check out the menu selection. Just another one of the many choices you have for fine dining in Celebration Florida.
Finally here is video clip (not one of mine) but posted from you tube of the Celebration High School Marching Band. Enjoy!
Google+ Comments