July 14th, 2009 by tisner
Superb location near Orlando for commercial development!!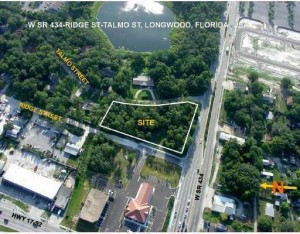 Corner of Talmo and Rt 434.
One Block East of 17-92 located on 434 in Longwood.  Architectural Drawings & Engineering Plans completed for Office/Retail Development. Avalon Plaza is 18,130 Sq Ft Total Devopment.  7,500 Sq Ft of office space and 12,130 Sq Ft of retail.
Architectural plans available for review and can be redesigned to new owner specifications subject to Longwood code and requirements. Great parcel with 234 feet of frontage on county road 434. 
Serious buyers come in and take a look at the plans it has been designed with style and functionality to make the best use of the square footage. Zoning permits offices, retail, warehouse, but plans are complete for a strip center with plenty of parking. 
This property is a must see for any commerical property investor! The plans are beautiful. Email us for details.
Learn more about this property and other Orlando real estate at OrlandoAvenue.com.
Google+ Comments