October 12th, 2011 by tisner
"Not a drive by" is real estate talk for letting another Realtor know that they have to really work at getting a buyer to go inside to check out the home because the curb appeal just isn't there. People would drive by and keep going thinking the inside was as unappealing as the outside. When potential Orlando home buyers are looking for a new place, they want a home that looks like it was loved and cared for.  They have a sense that if there is pride in the landscaping and the outside of the home, there will be pride on the inside, too. Curb appeal is both a visual and emotional hook for buyers. It says "Someone was happy here. I could be happy here, too." In a tough housing market, the curb appeal of a home makes it stand out and can ultimately make a difference in selling the home.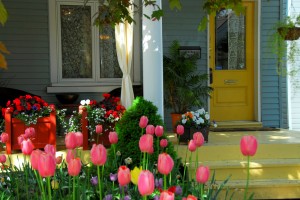 One of the most inexpensive renovations to a home is landscaping. Combined with other small outdoor touches that improve curb appeal, you increase the value of your most important investment. A home is not just a place to live, it is one of the most important investments you can make. Landscaping investments will actually appreciate if they are properly maintained. Orlando plants and trees in nurseries to find some that appeal to you. An investment of $500 to $3000 will help trigger the sale of your home. Nurseries have experienced staff who are eager to help you redesign your yard.
You could hire a landscape architect to re-design your outdoor space and create an ideal look for your neighborhood. Or, you could do it yourself for much less of an investment. Be sure to consult with local nurseries to find the best trees and shrubs for your climate, and determine how to properly care for them.
Here are some additional tips for improving your Orlando home's curb appeal:

Make sure the lawn is trimmed and weeds are removed.
Wash the exterior of your home and remove traces of mold.
Buy a new mailbox.
Paint or replace the front door.
Put out a new welcome mat.
Clean windows and gutters.
Update outdoor light fixtures.
Edge your sidewalks and driveway.
Remove fallen leaves and limbs.
Invest in new address signs for the house or the yard.
Hanging plants and flower beds make a home very attractive.
Make sure porches and decks are in good repair.
Paint the exterior of the home if it is drab and shabby appearing.
Nice landscaping and a fresh look will make your Orlando home appeal to more people and pique their interest to see what the home looks like on the inside.
Access Teri's one-stop Orlando FL home shopping website.
Teri Isner is the team leader of Orlando Avenue Top Team and has been a Realtor for over 17 years. Teri has distinguished herself as a leader in the Orlando FL real estate market. Teri assists buyers looking for Orlando FL real estate for sale and aggressively markets Orlando FL homes for sale.
You deserve professional real estate service! You obtain the best results with Teri Isner plus you benefit from her marketing skills, experience and ability to network with other REALTORS®. Your job gets done pleasantly and efficiently.  You are able to make important decisions easily with fast, accurate information from Teri. The Orlando Avenue top Team handles the details and follow-up that are important to the success of your transaction.
Google+ Comments