November 27th, 2007 by tisner
Free Movie night at Spring Park in Celebration Florida presented by Celebration Florida Parks and Recreation committee.
Free Movie Night at Celebration Florida

Ok residents of Celebration Florida Friday November 30th at 7pm at Spring Park in front of Heritage Hall the movie is

Shrek the III will be presented and on Friday Dec. 21st at Spring Park in front of the Heritage Hall the Celebration Florida free movie will be Hoodwinked.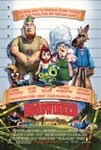 There is a free family feature each month in Celebration Florida.
Concessions will be available for sale during the movie.
If you would like more information on the free movie schedule contact Parks and Recreation at Celebration Florida's Town Hall 407-566-1200.

Parks and recreation committee is composed of residents and Town Hall staff. They meet once a month to discuss issues and updates of current and future programming that is available to residents.
This committee is also responsible for the new lighting of tennis courts at Lakeside Park. They are also currently looking at the possibility of a skate park in Celebration.
The Celebration Florida Parks and Recreation committee encourages resident participation and feedback to help shape the future programs offered in Celebration Florida. Email parks.rec@celebration.fl.us
Google+ Comments