April 23rd, 2021 by tisner
Hurricane Season is coming soon and now is a good time to check your homeowners insurance to make sure you're properly protected before a storm hits your area and leaves you with a damaged or destroyed home.  Hurricane season runs from June 1stand ends November 30th and peaks in September.  This year is predicted to be more active than usual.  The NOOA will be releasing its annual hurricane outlook for 2021 and predicts to have a total of 14 named storms, 7 hurricanes, and 3 major hurricanes ("major hurricane" is defined as a Category 3 or stronger). Here are a few things to keep in mind for insuring a home against these dangers: Often when a named hurricane enters the "box" (see below) North of 15 degrees North Latitude, South of 35 degrees North Latitude, West of 70 degrees West Longitude and East of 95 degrees West Longitude, insurance companies suspend binding new policies. When binding authority is suspended, all changes to existing policies are also suspended.  Coverages and/or deductibles can't be changed until the storm has passed.  This applies to auto policies as well.  We are also unable to bind new flood policies when the named storm or hurricane enters the box.  If there is no mortgage on the home, there is a 30 day waiting period for coverage to kick in for all flood policies from the purchase date of the policy.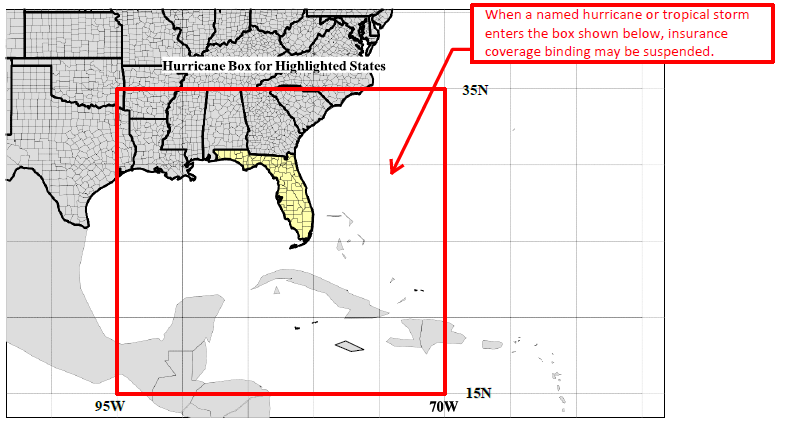 The good news is that most homeowners policies cover for damage from a hurricane.  Most homeowners policies have an "all other peril" (AOP) deductible for losses caused by perils such as vandalism, fire, lightening, and theft and a separate deductible for hurricane losses. The hurricane deductible is mandated by Florida Statutes.  The hurricane deductible can be as low as $500 but is typically expressed as a percentage, 2-5%, but higher percentages are available. It is a percentage of the coverage amount, not a percentage of the loss. For example, if your home is insured for $200,000 and your hurricane deductible is 2%, you would need to pay the first $4,000 in damages before the insurance company begins to pay for damages. According to Florida Statute §627.4025, a hurricane means a storm system that has been declared a "hurricane" by the National Hurricane Center or the National Weather Service. Note, a named tropical storm does not trigger the hurricane deductible.  According to the Florida Statutes, the duration of a hurricane in which the hurricane deductible would apply includes the time period:
Beginning at the time a hurricane watch or warning is issued for any part of Florida by the National Hurricane Center;
Continuing for the time period during which the hurricane conditions exist anywhere in Florida; and
Ending 72 hours following the termination of the 1sthurricane watch or hurricane warning issued.
Many, if not most, insurance policies require that the customer report all hurricane losses, even those that are clearly below the deductible.  Please remember that all policies are different; it's key to read the specific policy in question to see how deductibles are structured. 
Access Teri's one-stop Orlando FL home search website.
Teri Isner is the team leader of Orlando Avenue Top Team and has been a Realtor for over 24 years. Teri has distinguished herself as a leader in the Orlando FL real estate market. Teri assists buyers looking for Orlando FL real estate for sale and aggressively markets Orlando FL homes for sale.
You deserve professional real estate service! You obtain the best results with Teri Isner plus you benefit from her marketing skills, experience and ability to network with other REALTORS®. Your job gets done pleasantly and efficiently.  You are able to make important decisions easily with fast, accurate information from Teri. The Orlando Avenue Top Team handles the details and follow-up that are important to the success of your transaction.
Get Orlando Daily News delivered to your inbox! Subscribe here!
Google+ Comments