October 11th, 2007 by ckulikowsky
Each time I hear it, I immediately think back to the popular TV game show
Orlando Florida Buyers Want a Deal!
I hear it daily from Orlando Florida Buyers: "I want a Real Estate deal!"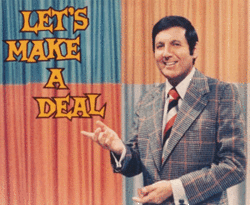 Each time I hear it, I immediately think back to the popular TV game show "Let's Make A Deal" There sometimes you left with a flashy sports car, and sometimes you left with his and her bicycles or worse. Much like the For Sale by Owners, Orlando Buyers that try to go it alone without the assistance of a Realtor have a difficult time.
It isn't just in Orlando Florida! Across the country Realtors are reading it in their emails from buyers, hearing it while we are at Open Houses, and just about every phone call they receive. "Can you get me a deal?" Orlando Buyers and those around the country are telling their neighbors and friends. It is what everyone is talking about.
Realtors hear it over and over. "I want a deal!" Ok! We get it! You want a deal! But I have something for you to think about…
Do you deserve a Deal?
If there is a buyer out there not demanding they get a deal I would be very surprised!
And why not?
The Orlando Real Estate Market favors the Orlando buyers right now. Inventory is up and many Orlando sellers are anxious. Now with the increase in foreclosure or short sale opportunities Orlando Buyers seem to think they are entitled to the BEST DEAL!
There are a lot of wonderful Real Estate Opportunities in the Orlando area. The problem is even though EVERYONE wants a deal, not everyone can get the BEST deals.
Best Deals are Short Sales and Foreclosures! – think again. There always seem to be many competing offers because everyone wants the same great deal
o
The banks want market value
o
You may have to buy "as is." So is this REALLY a deal?
Just Make Low Ball Offers! – A better strategy is to make solid offers on properties that are priced correctly.

Value of a Property is a Personal Factor – Are you getting an Orlando Florida home you love or just dealing with?

Pre-Qualification is Key! – If you aren't, no deal. Loan programs are changing daily, with so much competition in looking for deals you will need to be looking good on paper!

There is lots of competition – Surprise! You are not the only one sitting on the fence waiting for a great deal! Well priced Orlando homes in great condition are going to disappear quickly. Do you really want to be in the position saying "I should have acted faster?"

Be Ready to Act Quickly With:
No one wants to overpay and you are right to want a Good Deal.
Today's Orlando Real Estate market has a lot of inventory, with lots of options for the Orlando Buyers to choose from. Your competition for the really good buys may be tougher than you think. There is no reason to go it alone working with a knowledgeable Orlando Realtor will ensure that based on your criteria we can find you the best deal at that time!
So "Let's make A Deal" Orlando Florida! Call the Orlando Avenue Top Team today at (407) 467-5155 to start the process of finding your Orlando Florida Deal so you can start calling it home!
Google+ Comments