February 4th, 2008 by tisner
How To Make Your Realtor Get You the Best Deal Orlando Florida Edition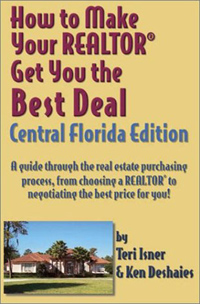 Just finished my first squidoo lens called How To Make Your Realtor Get You the Best Deal Orlando Florida Edition.  This was my first attempt at doing a lens and it was pretty straightforward and easy to follow.  I first heard about them from Mary McKnight and a coaching class I am taking part in over the next few weeks.
When you consider that one fourth of your income goes to where we live for the average American and that nothing is taught about this in the schools it really seems to be an important subject to cover.
We have donated our books to local libraries and schools in the Orlando area.  This is an important issue especially when you can save many dollars of your own money with just a few of these tools.
So if you are buying real estate in Orlando or somewhere else around the world it is still a great read.
This was a great resource Mary McKnight shared with us about Squidoo and I want to thank her as it gave me another platform to present this book and share with others you can be an educated buyer when it comes to buying real estate and not only in Orlando Florida.
Here are a few of the easy to read ideas from the book, and there are also many stories of real life experiences shared by past customers.  So avoid the pitfalls and take a few minutes to see how you too could save some of your hard earned cash next time you go to buy a house.
The Home Buying Process
Agency
Getting Started
Getting Your Home
Vacation Homes and Villas
Terms and Clauses
Finally here is the new page I created for this book promotion on How to Make Your Realtor Get You the Best Deal.  Please give it a rating and leave a comment.  Don't be too harsh as this is the first one I have done.
Google+ Comments