March 19th, 2008 by tisner
Orlando Florida Real Estate and pest control update why pest inspections are a must!
Orlando Florida residents and home buyers it is that time of year again to take a closer look at your pest control.  Most importantly your termite bond and udating your termite inspections.
The spring season brings on that spring cleaning urge but don't forget the pest control especially this time of year.  This goes for Orlando Florida buyers and sellers that need to be informed and up to date about potential pests that could be lurking behind walls or beneath the soil.  Don't be the seller caught during the pest inspection with termite or ant infestations.
Did you know termites are America's $5 billion pest problem?  I know it is gross to talk about bugs and the nuisance ants can be as sociable as they are no one wants them at your next dinner party.  You have that glamorous new kitchen or beautiful remodeled garden, but remember Florida is considered a very high risk of termite infestation.  As for ants there are ten different species that can potentially threaten homes so what can we do as a Orlando Real Estate buyer or seller?  
You may have the most beautiful and well kept home, but you are still at risk because termites and ants can strike without warning.  You can learn more about both first check out the Termite Institute and Ant Institute to find out about America's most common household pest.
If you are a first time home buyer or seasoned home owner these sites will help you identify, prevent and offer suggestons to solve termite and ant problems.  There are live web cameras and podcasts that show what is like when your home is invaded by one of these pests.
If you are not an Orlando Florida Real Estate buyer or seller here is an map which shows the areas of concern.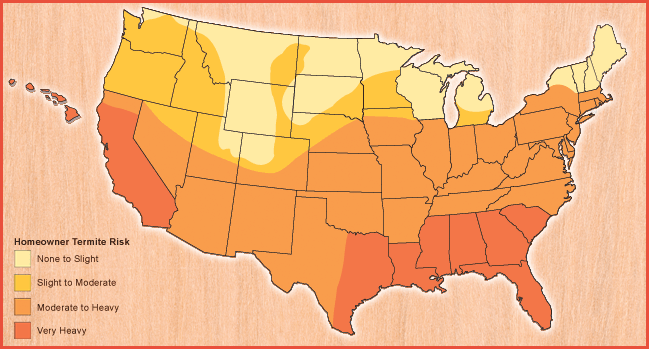 I can speak here from personal experience when we were buying our first Florida home guess what showed on the pest inspection?  Yes that's right termites.  The homeowners had it treated and paid for the bond.  Yes is can be treated and an annual check up helps you stay in control.  Termador is a terrific new treatment which you can read about at the Termite Institute at the solutions sections that identify the best ways to rid your home of these problems. 
You can even sign up for their tip list.  I want to thank Corrinne Cupton for reminding me of this important topic for this time of year.  If you have questions don't hesitate to call her at 610-941-0395 extension 148 or email her at cupton@fcfschmidtpr.com  she can give very useful advice and information
Google+ Comments