May 18th, 2023 by tisner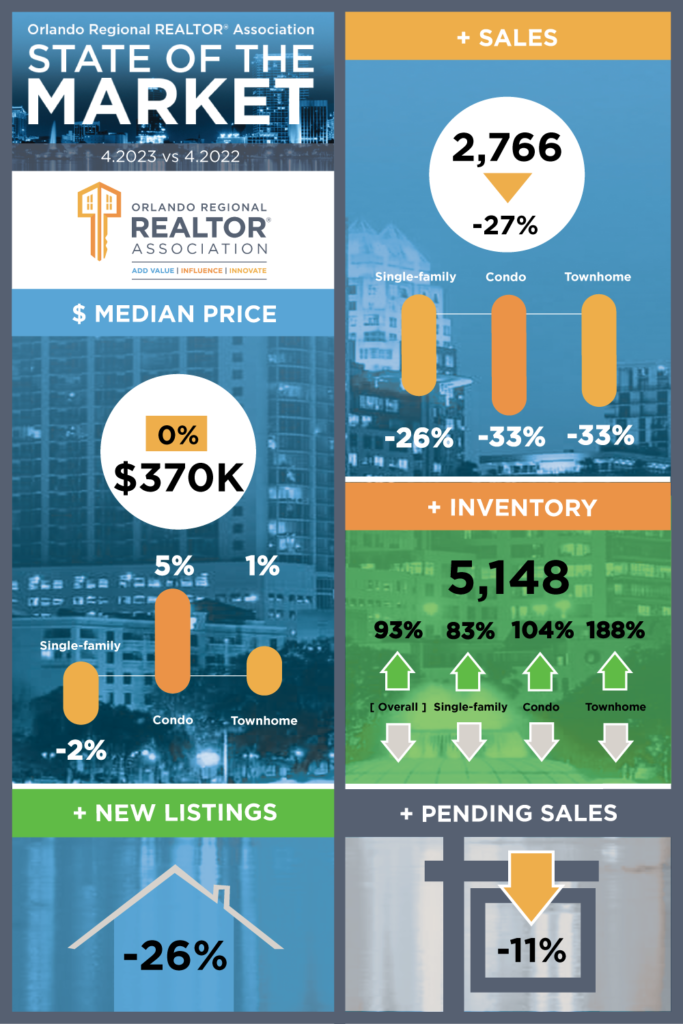 State of the Market
Overall sales fell 5.8% from March to April. There were 2,766 sales in April, down from 2,936 sales in March.
Overall sales in April 2023 were 27.2% lower than April 2022 when there were 3,800 sales.
Inventory rose 1.9% – from 5,052 homes in March to 5,148 homes in April.
Inventory in April 2023 (5,148) was 92.8% higher compared to April 2022, when it was recorded at only 2,670 homes.
The median home price for April was recorded at $370,000, up from $365,000 in March. Median home prices have increased every month this year.
Median home price in April 2023 was the same as recorded in April 2022 at $370,000.
April's interest rate was recorded at 6.4%, down from 6.7% in March. This comes after three straight months with rising rates.
New listings fell 6.4% from March to April, with 3,220 new homes on the market in April, compared to 3,442 in March.
Homes spent an average of 52 days on the market (DOM) in April, down from 57 days in March. This is 116.7% higher than April 2022 when homes spent an average of 24 days on the market.
"April data showed a slight uptick in Orlando inventory as home sales slowed, indicating the spring selling season may be starting to balance out," said Lisa Hill, Orlando Regional REALTOR® Association President. "Orlando's median home prices are still climbing as sellers continue to get competitive offers. The good news for buyers is that interest rates in Orlando dropped slightly, giving them extra buying power."
Market Snapshot
Interest rates decreased from 6.7% in March to 6.4% in April. This is 29.7% higher than April 2022 when interest rates were 4.9%.
Pending sales rose, with 4,220 in March and 4,485 in April.
18 distressed homes (bank-owned properties and short sales) accounted for 0.7% of all home sales in April. That represents a 35.7% decrease from March, when 28 distressed homes sold.
Inventory
Orlando area inventory increased by 1.9% from March to April – from 5,052 homes to 5,148 homes. Inventory in April 2023 was 92.8% higher than in April 2022.
The supply of homes increased to 1.86 months in April, up from 1.72 months in March. A balanced market is six months of supply.
The number of new listings decreased from March to April by 6.4% – from 3,442 homes to 3,220 homes.
ORRA's full State of the Market Report for March can be found here.
Access Teri's one-stop Orlando FL home search website.Teri Isner is the team leader of Orlando Avenue Top Team and has been a Realtor for over 24 years. Teri has distinguished herself as a leader in the Orlando FL real estate market. Teri assists buyers looking for Orlando FL real estate for sale and aggressively markets Orlando FL homes for sale.
You deserve professional real estate service! You obtain the best results with Teri Isner plus you benefit from her marketing skills, experience and ability to network with other REALTORS®. Your job gets done pleasantly and efficiently.  You are able to make important decisions easily with fast, accurate information from Teri. The Orlando Avenue Top Team handles the details and follow-up that are important to the success of your transaction.
By: www.orlandorealtors.org
Google+ Comments