August 18th, 2023 by tisner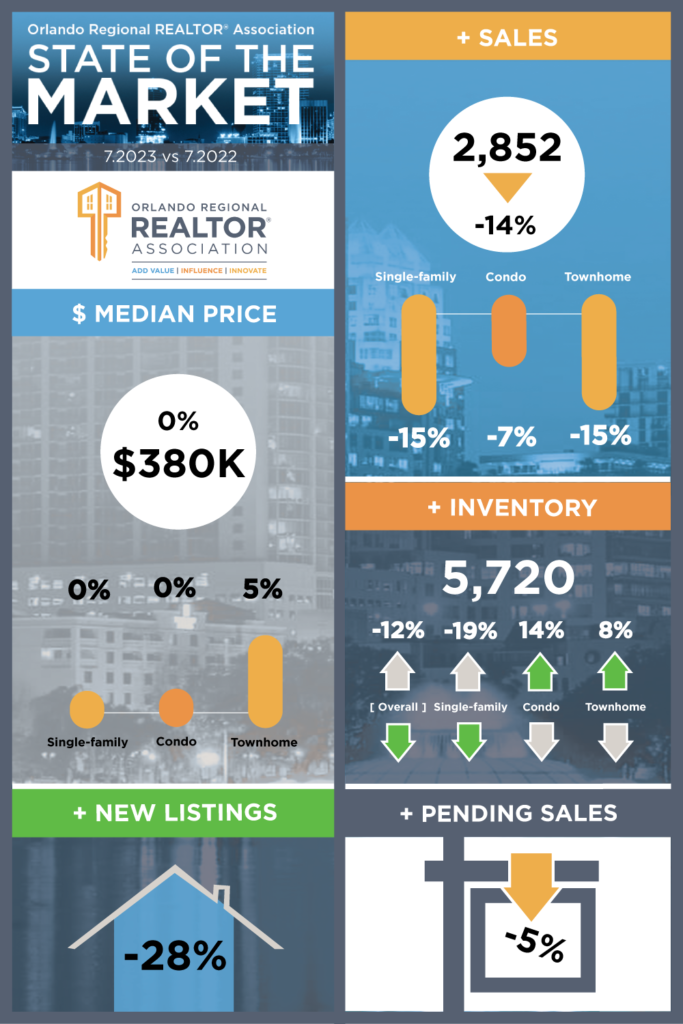 State of the Market
July's interest rate was recorded at 6.8%, up slightly from 6.7% in June. This is the second-highest interest rate in Central Florida in 20 years. October 2022 had the highest interest rate in 20 years at 7.0%

In ORRA's new survey of Orlando REALTORS, 43% of respondents said that rising interest rates are the biggest challenge facing buyers, causing some buyers to wait out purchasing homes right now or look at lower price points.

Overall sales fell 8.7% from June to July. There were 2,852 sales in July, down from 3,124 sales in June. Sales in July 2023 were also 13.8% lower than July 2022, when there were 3,309 sales.
Inventory for July was recorded at 5,720, up 5.0% from June when inventory was recorded at 5,450.

Low inventory was cited as the second biggest issue facing buyers in ORRA's new survey.

The median home price for July was recorded at $380,000, down from $385,000 in June. This is the first month this year that median home price has fallen.
Median home price in July 2023 was extremely close to July 2022, when it was recorded at $380,900.
New listings fell 7.8% from June to July, with 3,413 new homes on the market in July, compared to 3,703 in June.
Homes spent an average of 39 days on the market (DOM) in July, down from 41 days in June. This is still 85.7% higher than July 2022 when homes spent an average of just 21 days on the market.

Last year, 63% of Orlando REALTORS said clients were selling their homes in 10 days or less. This year, only 34% said clients are selling their homes in 10 days or less.

"Approaching the end of summer with interest rates at nearly their highest level in 20 years, we are seeing an impact on both buyers and sellers," said Lisa Hill, Orlando Regional REALTOR® Association President. "More homeowners are being locked into 'golden handcuffs' – where they're choosing to stay in their current homes to keep their low mortgage rates, which could be 3% or lower – and more buyers are choosing to wait in hopes that rates go down."

Market Snapshot
Interest rates increased from 6.7% in June to 6.8% in July. This is 27.7% higher than July 2022 when interest rates were 5.4%.
Pending sales fell, with 3,964 in June and 3,808 in July.
25 distressed homes (bank-owned properties and short sales) accounted for 0.9% of all home sales in July. That represents a 10.7% decrease from June, when 28 distressed homes sold.
Inventory
Orlando area inventory increased 5.0% from June to July. Inventory in June was 5,450 and inventory in July was 5,720.
The supply of homes increased to 2.01 months in July, up 15.0% from 1.74 months in June. A balanced market is six months of supply.
The number of new listings decreased from June to July by 7.8% – from 3,703 homes to 3,413 homes.
ORRA's full State of the Market Report for July can be found here.
Access Teri's one-stop Orlando FL home search website.Teri Isner is the team leader of Orlando Avenue Top Team and has been a Realtor for over 24 years. Teri has distinguished herself as a leader in the Orlando FL real estate market. Teri assists buyers looking for Orlando FL real estate for sale and aggressively markets Orlando FL homes for sale.
You deserve professional real estate service! You obtain the best results with Teri Isner plus you benefit from her marketing skills, experience and ability to network with other REALTORS®. Your job gets done pleasantly and efficiently.  You are able to make important decisions easily with fast, accurate information from Teri. The Orlando Avenue Top Team handles the details and follow-up that are important to the success of your transaction.
By: www.orlandorealtors.org
Google+ Comments