June 16th, 2022 by tisner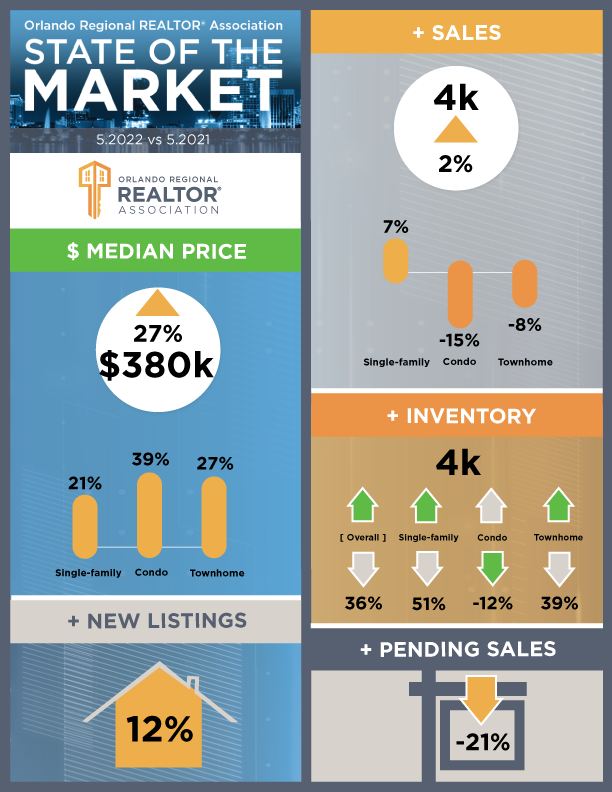 Orlando Area Residential Real Estate Snapshot for May- 2022
State of the Market
Inventory increased by 44.2% from April 2022 to May 2022, with over 1200 additional homes hitting the market in May compared to April – this is the highest monthly increase in Orlando inventory to date
May's median home price was recorded at $379,950, an increase of 2.7% compared to $370,000 in April 2022; this sets a record high for the fourth month in a row.
Interest rates increased from 4.9% in April 2022 to 5.3% in May 2022. This is the highest interest rates in the Orlando area have been since 2009. This is also the first time Orlando's interest rates have gone above 5% since April 2010, when they were recorded at 5.1%.
Overall sales in May increased by 3.8%, with a total of 3,946 sales compared to 3,800 sales in April 2022. This is a 1.9% increase compared to May 2021 when overall sales were recorded at 3,872.
Homes spent an average of 21 days on the market in May, down 12.5% from April 2022 when the average was 24.
New listings increased by 10.7% from April 2022 to May 2022, with a total of 4,822 new homes on the market in May.
"This new surge in inventory is a sign that the Orlando housing market is beginning to level out, which is good news for both buyers and sellers," said Tansey Soderstrom, Orlando Regional REALTOR®Association President. "Buyers will find more homes to choose from and sellers are still getting top dollar as Orlando's median home price continues to rise."
Market Snapshot
Interest rates continue to increase as the average interest rate for May 2022 was recorded at 5.3%. This is a significant rise compared to May 2021 when interest rates were at 3%.
Pending sales decreased by 7.9% from April 2022 to May 2022 for a total of 4,645 pending sales.
24 distressed homes (bank-owned properties and short sales) accounted for 0.6% of all home sales in May 2022. That represents a 7.7% decrease over April 2022, when 26 distressed homes sold.
Inventory
Orlando area inventory increased by 44.2% from April 2022 to May 2022 from 2,670 homes to 3,851 homes. Inventory in May 2022 was 36.5% higher than in May 2021.
The supply of homes remained at nearly one month in May 2022. A balanced market is six months of supply.
The number of new listings increased in May 2022 from April 2022 by 10.7% to 4,822 homes.Access Teri's one-stop Orlando FL home search website.Teri Isner is the team leader of Orlando Avenue Top Team and has been a Realtor for over 24 years. Teri has distinguished herself as a leader in the Orlando FL real estate market. Teri assists buyers looking for Orlando FL real estate for sale and aggressively markets Orlando FL homes for sale.

You deserve professional real estate service! You obtain the best results with Teri Isner plus you benefit from her marketing skills, experience and ability to network with other REALTORS®. Your job gets done pleasantly and efficiently.  You are able to make important decisions easily with fast, accurate information from Teri. The Orlando Avenue Top Team handles the details and follow-up that are important to the success of your transaction.

Get Orlando Daily News delivered to your inbox! Subscribe here!
Google+ Comments