February 17th, 2016 by tisner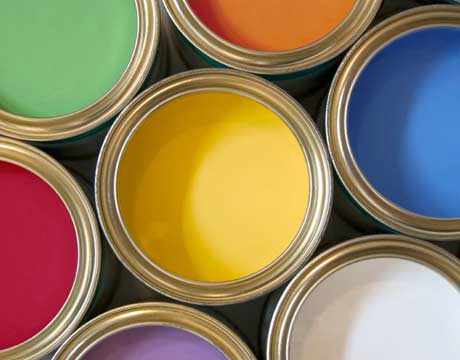 A new paint color in your home can do wonders for your mood and and choosing the right paint color can do wonders for helping to sell your home. Paint colors can change your mood from happy to sad to relaxed or even make you angry. Why not do your part to make selling your home as easy as you possibly can by choosing the right paint colors. Below are some color ideas to get you started in the right direction.
Blue is a nice color for a home if you are looking for a peaceful feeling. Many people choose to paint the walls in their bedroom blue so that they will be more able to get a good night's sleep. Some people like to paint a spa blue in their bathrooms to make it have a spa like feel. You can't go wrong with blue paint when it comes to getting your home ready to sell.
Another color that gives a good tranquil feeling to everyone who enters your home is green. Green is associated with nature and nature is typically peaceful. You can use green in almost any room of your house where you want to feel calm and peaceful. Some folks use light green paint in their bathrooms while others use darker earth tone greens in their family rooms.
Yellow is a good color to paint in your home if you are interested in selling it because it makes folks feel happy and joyful. What better feeling would you want your prospective buyers to feel than joy and happiness as they enter your home. Typically yellows are used in hallways or large foyer areas. It is best however to stick with soft yellow colors and not get too carried away by attempting such as a mustard yellow color. Yellow paint done in the right way will appeal to most people.
Be careful with painting grey in your home if you are trying to sell it because sometimes although you may be going for a warm inviting feel you may end up with a cold harsh feel and that is not something you want your buyers to pick up on. Grey done right can be very relaxing and inviting. Perhaps talking with a paint expert at your local hardware store might be a good idea before using grey.
Brown is a typical staple color in a lot of homes. If you choose to paint beige which is a light form of brown in your home, you will likely find that it can be very warm and inviting to guests or potential buyers.
I would suggest not using orange or red in your home as a new paint color if you are going to be putting your house on the market anytime soon. These colors tend to make people feel anxious and or angry. Painting your home in a few new colors is a perfect way to get it ready for a great showing! Happy selling!
Access Teri's one-stop Orlando FL home search website.
Teri Isner is the team leader of Orlando Avenue Top Team and has been a Realtor for over 24 years. Teri has distinguished herself as a leader in the Orlando FL real estate market. Teri assists buyers looking for Orlando FL real estate for sale and aggressively markets Orlando FL homes for sale.
You deserve professional real estate service! You obtain the best results with Teri Isner plus you benefit from her marketing skills, experience and ability to network with other REALTORS®. Your job gets done pleasantly and efficiently. You are able to make important decisions easily with fast, accurate information from Teri. The Orlando Avenue Top Team handles the details and follow-up that are important to the success of your transaction.
Get Orlando Daily News delivered to your inbox! Subscribe here!
Google+ Comments