August 25th, 2006 by tisner
Disney's Pluto Figures at Astronomy Convention
Disney's Pluto Figures at Astronomy Convention
Disney's Pluto Figures at Astronomy Convention or
is Astronomy is going to the dogs.. ?
At a conference of 2,500 astronomers from 75 countries, the International Astronomical Union removed the status of "planet" from Pluto and relegated it to a new category of "dwarf planet."
Under new rules for planet-hood, Pluto doesn't fit the bill. A planet must now be "a celestial body that is in orbit around the sun, has suffient mass for its self-gravity to overcome rigid body forces so that it assumes a …nearly round shape, and has cleared the neighborhood around its orbit."
Pluto's orbit overlaps Neptune's.
A stuffed Pluto, such as we find at Walt Disney World, was reported to have been brought into the convention to represent the dwarf planet.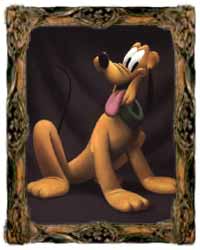 The Orlando Avenue Top Team are real estate agents specializing in the buying and selling of homes, vacation homes and investment property in the Orlando area. Are you considering relocating to Central Florida? We can help you find a dwarf planet of your own to call home. The Orlando Avenue Top Team can take care of all of your real estate needs. Call Team Leader, Teri Isner: 407-467-5155.
Google+ Comments