June 11th, 2018 by tisner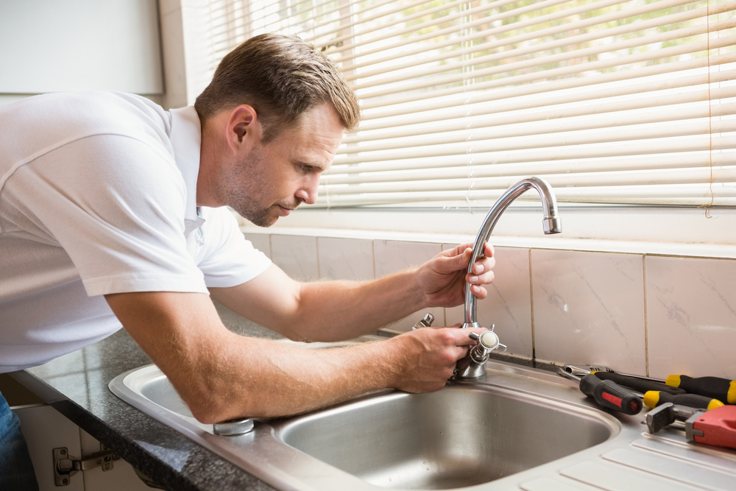 Most homeowners are doing what they can to pinch pennies, and when something goes wrong, the thoughts of calling a repair service can send us into a tailspin for fear of a hefty bill.  Some fixes are simple enough that anyone can DIY them with a little knowledge and supplies; here are seven of them: 
Toilet bowl leaks can really add up on your water bill.  There are two common things that cause them:  a leaky flapper, or the fill valve needs replacing.   For less than $20, you can replace either of them.  To get started, check out this information from Today's Homeowner to test where your leak is and go from there.  The internet is chock full of videos and how-to articles for either fix.

 

Your beautiful just-refinished wood floors are squeaking, and unless you're using the noise as a burglar alarm, you can get rid of it with talcum powder.  First, make certain that the squeaking isn't because of a loose board.  If that's the case, replace the nails or floor staples.  Still squeaking?  Sprinkle talcum powder over the seams, and rub it in with your fingers or a thin plastic card. Walk over the area, and listen for the noise, and apply more powder if necessary.

 

It's laundry day, and you've just thrown a load into the dryer, and the drum suddenly stops turning.  The drum belt is easy and inexpensive to replace, thanks to this guide and video from Sears, and no appliance repair service needs to be called! 

 
Replacing light bulbs is easy, right?  What happens if you accidentally break the bulb off at the socket?  Go to the pantry, grab a potato, and cut it in half.  After turning the electricity off at the breaker box, carefully push the sliced side of the potato onto the bulb socket, and once it has a grip, unscrew and remove the broken piece from the fixture.  

 

Your cabinets look great, but you're having a hard time keeping them closed.  For a few dollars each, you can purchase magnet catches, and install them in no time.

 

Every now and then, something bumps into the drywall hard enough to create a hole.  No need for a drywall expert to come in for this job.  Lowe's shows us how to patch the hole, and spend much less than the cost of a repair bill.

 

Doorknobs take a lot of abuse and eventually need replacing, or maybe you just want to upgrade your door hardware.  Buildipedia offers this how-to video for this simple project–no locksmith required!

 
Chances are you take great pride in your home, and want a professional to take care of some things for you.  Sometimes, though, a simple job can be taken care of on your own, so grab your toolbelt, and get to work!  Your wallet will thank you! 
Access Teri's one-stop Orlando FL home search website.
Teri Isner is the team leader of Orlando Avenue Top Team and has been a Realtor for over 24 years. Teri has distinguished herself as a leader in the Orlando FL real estate market. Teri assists buyers looking for Orlando FL real estate for sale and aggressively markets Orlando FL homes for sale.
You deserve professional real estate service! You obtain the best results with Teri Isner plus you benefit from her marketing skills, experience and ability to network with other REALTORS®. Your job gets done pleasantly and efficiently.  You are able to make important decisions easily with fast, accurate information from Teri. The Orlando Avenue Top Team handles the details and follow-up that are important to the success of your transaction.
Get Orlando Daily News delivered to your inbox! Subscribe here!
Google+ Comments