October 18th, 2017 by tisner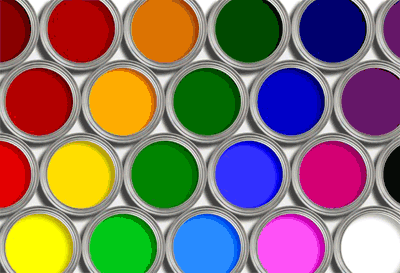 If finances are tight, but you're ready to give your home a new look, paint is the budget-friendly way to go.  Making it a DIY project is even more cost-effective, and with so many options and ways to add color to your walls, you need some guidance so it will look like it was done by a pro. 
Which Paint and What Finish? 
Latex paint is best for walls, and oil paint is perfect for wood trim, because it seals stains.  Oil paint takes longer to dry, and has a strong odor, but if you add a tablespoon of vanilla extract per gallon, and open the windows, it helps keep the odor in check. 

 

Flat paint goes on easily, but doesn't clean easily; glossy paint is great for cleaning, and comes in semi-gloss, and satin, but doesn't cover wall imperfections. For a nice compromise, an eggshell finish is somewhat flat, but easy to clean.

 
Choose Your Color 
Choose a color for the room/s you're updating, and don't be afraid of using a bold color.  This adds character and some wow factor to your home. Neutrals are great for quick-change decorating, or if you're thinking of selling soon.

 

Using pint-can paint samples, apply a 2×2 foot area of each color on the wall you're planning to paint, allow to dry for 24 hours, and look at them at different times of the day.  You'll get a more accurate feel for the color in the different lights, and whether you can live with it or not.

 

Don't forget the ceiling! You can change the feel of the room's height by going a shade darker (for a lower ceiling feel), or go a shade lighter or use a lighter color to give the illusion of a higher ceiling.

 
Painting Prep 
Measure your room for square footage, and make sure you buy enough paint–about one gallon per 400 square feet.

 

Purchase good painter's tape, drop cloths, putty, a good putty knife, caulking, and any tools you may need for removing hardware from any doors or walls.

 

Protect light fixtures, trim, or wall sconces with painter's tape.  Move furniture and put down drop cloths. Use wall putty or caulking to fill and smooth any holes or other wall damage.

 

Clean, sand, and dust walls, using a vacuum to make sure all of the dust is off the walls.

 

Priming the walls is really important if you're covering a dark color, if there are stains on the walls, or if you're painting paneling or new sheetrock. Tint the primer with a little of your new wall color before applying.

 
Start Painting 
Paint mixing isn't 100% perfect. Professionals mix all of the gallon cans together in a five-gallon bucket for color uniformity.  

 

Paint in corners and close to the ceiling with a good brush before you paint the walls, working your way down to catch drips. This process is called "cutting in."

 

Working in an overlapping W-pattern, apply paint until you need to reload the roller.  If you notice paint drying quickly, work in 3-4 foot sections of wall, but a whole wall can be accomplished in the case of a slower drying process.

 

Smoothing the paint is important and is done by using what paint is left on the roller to paint as close to the ceiling and corners as possible, where you've already cut in. This gives a smooth appearance to the finish.

 

Clean your equipment as soon as painting is done:  latex paint can be washed off with dish detergent and warm water, but oil paint should be cleaned off with paint thinner. 

 

Once the paint is dry, after about 24 hours, move your furniture back in, but hold off hanging anything on the walls for a few days, and don't wash them until the paint has cured, usually two weeks to thirty days.

 
A newly painted room can make your home feel fresh, and make it look as if you've redecorated.  If you're feeling really adventurous, try painting a pattern on your wall.  It may take more time, but the dramatic effect it makes in the room makes the wall a focal point in itself. diy Network has some great tips for a patterned accent wall: http://www.diynetwork.com/how-to/skills-and-know-how/painting/how-to-paint-stripes-chevrons-blocks-and-more 
Access Teri's one-stop Orlando FL home search website.
Teri Isner is the team leader of Orlando Avenue Top Team and has been a Realtor for over 24 years. Teri has distinguished herself as a leader in the Orlando FL real estate market. Teri assists buyers looking for Orlando FL real estate for sale and aggressively markets Orlando FL homes for sale.
You deserve professional real estate service! You obtain the best results with Teri Isner plus you benefit from her marketing skills, experience and ability to network with other REALTORS®. Your job gets done pleasantly and efficiently.  You are able to make important decisions easily with fast, accurate information from Teri. The Orlando Avenue Top Team handles the details and follow-up that are important to the success of your transaction.
Get Orlando Daily News delivered to your inbox! Subscribe here!
Google+ Comments