March 1st, 2010 by tisner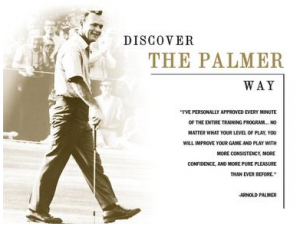 This is a perfect time for all you snow weary Northeners to take a golf vacation in Orlando! Consider attending the Arnold Palmer Golf Academy at Bay Hill Club & Lodge.
Instructors are hand picked by Arnold Palmer and offer instructions for all levels…beginner to professional.
Arnold's approach:
"My father taught me the game of golf. A great deal of the success I've enjoyed in my career, I owe to him. He believed golf is really pretty simple and a whole lot of fun… if you rely on two vital aspects; fundamentals and attitude. I totally agree.  At the Golf Academy, I've personally chosen every instructor and approved every minute of the entire training program. They will teach you what my father taught me. The result will be, no matter what your level of play, you will improve your game. And you'll play with more consistency, more confidence and more pure pleasure than ever before."