March 13th, 2015 by tisner
Part 1 of this series explained building wealth is not about quick profits! It's about steadily increasing your net worth over time.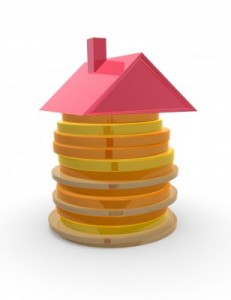 Homeownership is one of the easiest ways of building wealth that's available to the general public, non-investors, and average middle-class Americans. Part 1 contained Rules #1 thru #4…
Rule # 5: Understand the difference between paying costs of living and paying toward wealth building.
Costs of living contribute nothing to wealth building. Examples of these are property taxes and insurance, utilities costs, mortgage interest, etc.
Some of these costs are hidden when you rent because the landlord pays them. Utilities are costs you pay. In both cases, once they are paid, the money is gone. On the other hand, mortgage principle payments build equity.
Rule # 6: Understand how your mortgage works.
When you make a monthly mortgage payment, it's not just paying the mortgage company. It's also paying YOU! Part of the mortgage payment is interest on the outstanding balance of the loan. Interest pays the lender for loaning money and is a cost of living.
However, part of the mortgage payment reduces the principle loan amount owed. Every month you make a payment the loan amount gets smaller. Therefore, the interest you pay the next month is a little smaller. Since the monthly amount you pay is a fixed number, as the interest amount gets smaller the amount paid toward reducing the loan gets larger. That is money you are paying yourself.
Think of payments that reduce your loan as a forced savings account…it's increasing your wealth. Your equity is the portion of the value of the property that you actually own. To find the value of your equity you must subtract what you owe from the property value. Therefore, as you make payments that reduce how much you owe, each month you increase your equity and are building wealth.
Rule # 7: Consider making extra payments on your mortgage.
You should have the right to pay extra toward reducing the principle on your loan anytime you choose. Your monthly mortgage payment has two parts: first, you pay interest based on the outstanding amount of the loan; and second, the rest of the payment reduces the loan itself. When you add extra money to your payment it will reduce the loan even more, and build equity and wealth faster.
Watch for Building Wealth With Home Ownership 103 for more rules to follow while you own.
Information courtesy of Orlando FL Realtor Teri Isner.
Access Teri's one-stop Orlando FL home search website.
Teri Isner is the team leader of Orlando Avenue Top Team and has been a Realtor for over 24 years. Teri has distinguished herself as a leader in the Orlando FL real estate market. Teri assists buyers looking for Orlando FL real estate for sale and aggressively markets Orlando FL homes for sale.
You deserve professional real estate service! You obtain the best results with Teri Isner plus you benefit from her marketing skills, experience and ability to network with other REALTORS®. Your job gets done pleasantly and efficiently. You are able to make important decisions easily with fast, accurate information from Teri. The Orlando Avenue Top Team handles the details and follow-up that are important to the success of your transaction.
Get Orlando Daily News delivered to your inbox! Subscribe here!