March 19th, 2018 by tisner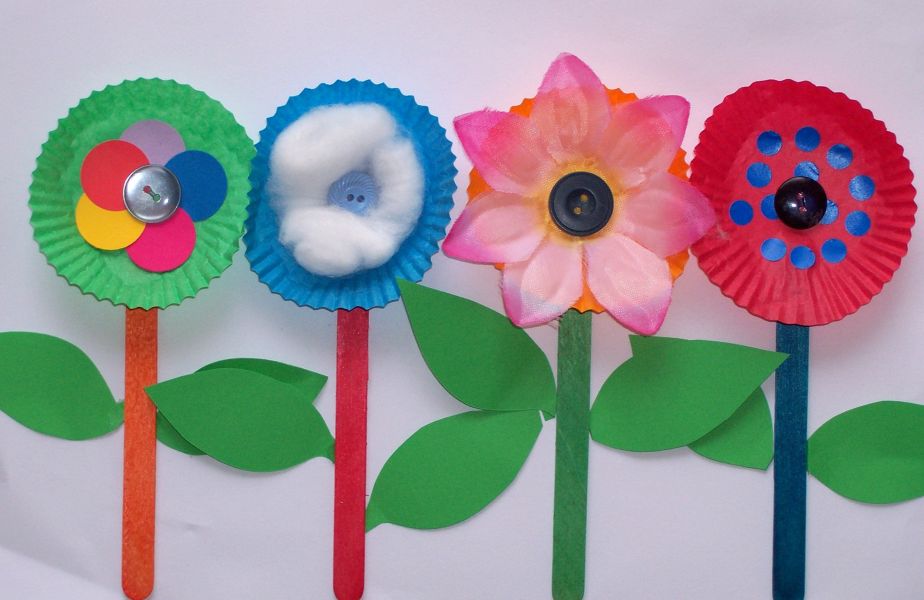 Spring is almost here, and that means warmer weather and outdoor time, but sometimes rain and a few last tries by Old Man Winter keep us indoors just a little longer.  Since the kids will be out of school for a few days, sit them down for some craft time!   
Dye coffee filters and paper towels with bright-colored markers and fold them into layers.  Spray them with a misting bottle filled with water, allow the water to soak in, and watch the colors spread.  Unfold and let dry.  Now make something! 
Dye a coffee filter, and once dry, gather the filter in the middle, wrap a chenille stem around the middle, and fluff the filter around the end of the stem.  Display several in a vase or make a wreath with a paper plate base.

 

Paper towel butterflies can be made using the same dying technique, then gathered in the middle, wrapped with a chenille stem (don't forget to leave enough sticking up at the top for some antenna!), self-stick googly eyes added at the top, and you'll soon have a room full of butterflies! Happy Hooligans offers some fun tips on crafting with paper towels.

 
Fairies and gnomes are all the rage this Spring, and what can be more fun than making believe?   
Pick up some inexpensive plain headbands and a few artificial Spring flowers at the dollar store.  Remove the flowers from their stems–they should just pull off without scissors.  Using a low-heat glue gun (with an adult), add a dollop of glue to the headband, and stick the flower on by the stem end, and hold until the glue cools.  Place the flowers close together so the headband doesn't show.  

 

If your little one would rather be a gnome, make a no-sew gnome hat with these easy directions from That's Quite Nice! Gnomes must have a beard, and chenille stems covered with fluffed-out cotton balls attached with a glue gun (with adult supervision!), with enough room at the ends to wrap over little ears to hang their beard are easy and fun to make.

 

If you want fairies or gnomes to visit your garden or yard, they need hiding places! Add twigs and grass clippings to crooks of trees or around the trunk on the ground to give them shelter from the rain.  String long lengths of yarn with a few beads, a tied ribbon or two, and a little jingle bell at the end. Wrap the unbeaded part around a stick, leaving beads and bell hanging from the end.  Place the stick in a tree crook or stand it in the ground out of the way of walking paths.  When you hear it ring, you 'll know a gnome or fairy is visiting your tiny shelter!

 
It's time for bugs and critters to be everywhere, so make some that the kids won't be wary of and can even play with! 
Purchase a pack of colored cupcake liners.  Using construction paper or cardstock for the background, spread the liners out, brush them with a light layer of glue, and glue them to your paper.  Add new cupcake liners in a caterpillar body shape, and once the glue is dry, draw eyes, antenna, and feet! Find tons of cupcake liner craft ideas on Pinterest.

 

Make bugs from rocks, craft paint, and googly eyes!  Wash the stones, carefully paint your bug design, allowing each color to dry before you paint the next, and once the paint job is complete, add some stick-on googly eyes, and place them in your garden or on a shelf!

 

Turn a pasta sauce jar into a bug-collecting jar!  Adults, poke some holes in the lid with an ice pick, have the kids use craft paints to decorate their jars, and allow to dry.  Fill with grass, leaves and a few twigs, and go on an insect hunt.  Use a spoon to scoop your buggy finds into the specimen jar.  Once the little ones have studied their insects, take it back to where you found it and release.  

 
Crafting with kids can be so much fun but can get messy.  If you don't have aprons or smocks, find a few old adult-sized button-up shirts, and put them on backwards!  They help protect clothes, and you can wash them and store them away for the next crafting or cooking session.  Remember to use non-toxic paints and adhesives and spread old newspapers over your crafting surface to keep clean-up a cinch. Most of all, have fun, and celebrate Spring! 
Access Teri's one-stop Orlando FL home search website.
Teri Isner is the team leader of Orlando Avenue Top Team and has been a Realtor for over 24 years. Teri has distinguished herself as a leader in the Orlando FL real estate market. Teri assists buyers looking for Orlando FL real estate for sale and aggressively markets Orlando FL homes for sale.
You deserve professional real estate service! You obtain the best results with Teri Isner plus you benefit from her marketing skills, experience and ability to network with other REALTORS®. Your job gets done pleasantly and efficiently.  You are able to make important decisions easily with fast, accurate information from Teri. The Orlando Avenue Top Team handles the details and follow-up that are important to the success of your transaction.
Get Orlando Daily News delivered to your inbox! Subscribe here!
Photo credit: tierraeste.com