November 5th, 2010 by tisner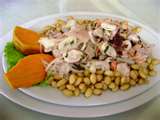 Head to Downtown Orlando this weekend where you will be able to enjoy fabulous Spanish Tapas at Ceviche.  Tapas are a fun way to enjoy dinner with friends and be able to experience many different Spanish flavors.  During your dining experience you will be able to choose from over 100 different tapas, which will include fresh meats and seafood.  Some of the wonderful meats you will enjoy are quail, oxtail, lamb ribs and many more.  Many of the ingredients are imported from Spain to make sure the dishes are authentic.  As you dine, you will have the opurtunity to enjoy live flamenco music.
The Ceviche is located in the Historic Church Street Station in Orlando.  Make plans to visit with friends to enjoy this fun dining experience.
Free mobile app to search all homes right from your phone!