February 12th, 2016 by tisner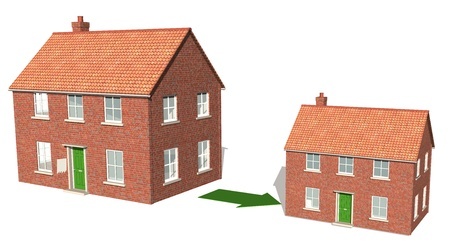 Although the economy has improved some over the last few years, it doesn't seem to be getting a whole lot better for most Americans. A good way to save money is to downsize your home. This is especially a good idea if you have already raised your family and you and your husband are left paying a mortgage on a home that is too large for you. Let's take a look at how downsizing your home will help you to save a bit of money, to live more comfortably as well as some easy ways that you can downsize.
One easy way to downsize is to look for a home that has a small garage or even no garage at all. If you and your spouse are living in the home alone and your children are grown it is likely that you don't have a bunch of stuff to store in a garage. Buying a home without a garage is a great way to get more house for your money and to downsize your payment.
Finding a home without a lot of land is another way to downsize and to save big. You can find a lot of cute houses on the market these days that don't have a ton of land with them. It is also good to find a home without a lot of land if you are older and don't have the stamina you once had to do all the yard work that is involved with a house with a lot of land attached.
Buying a home that is one story is also a good way to downsize and to save when it comes to buying a new home. Buying a home without stairs is good for when you get older as well because you won't want to or may not be able to climb them once you get up in years.
Realize that you don't have to give up on the home of your dreams when you downsize. There are plenty of adorable houses on the market that won't break your bank account that are 1500 square feet or less. Don't let society dictate to you that you need a large house in order to fit in. There are plenty of upsides to downsizing to a smaller home!
Once you set your mind in the right direction and you realize that you don't need to have a huge house and that it's no longer important to "keep up with the jones'' you will be well on your way to saving a lot of money.
Access Teri's one-stop Orlando FL home search website.
Teri Isner is the team leader of Orlando Avenue Top Team and has been a Realtor for over 24 years. Teri has distinguished herself as a leader in the Orlando FL real estate market. Teri assists buyers looking for Orlando FL real estate for sale and aggressively markets Orlando FL homes for sale.
You deserve professional real estate service! You obtain the best results with Teri Isner plus you benefit from her marketing skills, experience and ability to network with other REALTORS®. Your job gets done pleasantly and efficiently. You are able to make important decisions easily with fast, accurate information from Teri. The Orlando Avenue Top Team handles the details and follow-up that are important to the success of your transaction.
Get Orlando Daily News delivered to your inbox! Subscribe here!