July 23rd, 2020 by tisner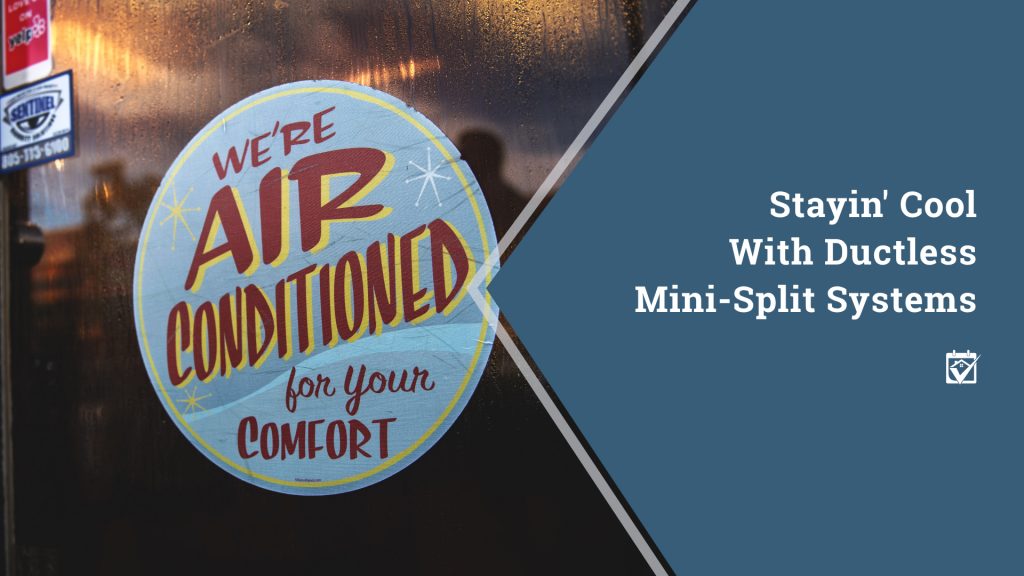 There's nothing like a glass of cool lemonade on a hot summer day, unless of course the reason it's so hot is that your air conditioner needs to be replaced. In that case, a new air conditioning system is pretty much the best thing ever. Maybe yours has lived a long and full life and is ready to be replaced, or perhaps you've added on to your home and need a solution for cooling that EZ Bake Oven you've created. In either case, installing a new ducted air conditioning system or plopping a window unit into the nearest window aren't your only choices. You could go with Door Number Three: the ductless mini-split system.
What is a Ductless Mini-Split System?
Ductless mini-splits are air conditioning systems that are made to cool (and sometimes heat) smaller spaces. They can work together to improve climate control in entire homes and can even replace a traditional ducted system. Much like a central air conditioning system, there are two parts: the condenser, which is installed outside, and the inside air handler.
The main difference from traditional systems is that they don't use ductwork, so they eliminate a ton of temperature loss that would normally occur in your crawlspace or attic. And unlike a window unit, a ductless mini-split system can be hung out of the way of windows, since it only requires a three-inch hole to run the refrigerant lines and electrical controls.
Advantages of a Ductless Mini-Split System
There are a lot of reasons to love a ductless mini-split, but energy efficiency has to be up there among the top. These systems can have SEER ratings of around 28, which is substantially more efficient than a ducted system's 13 SEER national minimum requirement. Of course, a ducted system's rating will vary by unit, but generally speaking, the higher the SEER rating, the higher the price tag.
Ductless mini-splits systems also boast these advantages over a traditional central HVAC system:
More precise control of room temperatures. Mechanically, one of the most important differences between ductless mini-split systems and traditional systems is that mini-splits are controlled by an inverter system that allows your heat or air to come out of the air handler at the temperature you set. This is different from a ducted air conditioner that only blows air at one temperature, constantly switching on and off to maintain room temperatures.
Ability to set room temperatures independently of one another. Although zoning is possible with ducted systems, it can be costly to install and is not a reasonable solution for many rooms that need different temperatures. This is especially a concern in multi-generational households or those where the home heats or cools irregularly throughout the day. With a ductless mini-split system, you can set the living room to stay a constant 72 degrees despite the heat baking your picture window, without your office having to become an ice cave. Everybody wins!
No more dirty air cycling endlessly. Ducts are filthy, there's no question about it. This is just an inevitable side effect of their design, especially in an older house that's had decades or generations to collect substantial amounts of dirt in the home's ductwork. Ductless mini-splits are just that: ductless. Each unit has its own filtration system, and there are no ducts for dirt to settle in, keeping room air significantly cleaner all the time.
When Not to Split?
Not every house is going to be a great candidate for a ductless mini-split system, no matter how awesome they seem. Newer homes with highly efficient central HVAC systems that are in great shape or those that don't generally have a lot of temperature differential across the structure likely won't recapture the cost required to install these systems.
However, if you're not sure if your home can benefit from a ductless mini-split system, you can always consult an HVAC expert for more specific recommendations. Sign up for your free HomeKeepr account to find the professionals you need.
Access Teri's one-stop Orlando FL home search website.
Teri Isner is the team leader of Orlando Avenue Top Team and has been a Realtor for over 24 years. Teri has distinguished herself as a leader in the Orlando FL real estate market. Teri assists buyers looking for Orlando FL real estate for sale and aggressively markets Orlando FL homes for sale.
You deserve professional real estate service! You obtain the best results with Teri Isner plus you benefit from her marketing skills, experience and ability to network with other REALTORS®. Your job gets done pleasantly and efficiently.  You are able to make important decisions easily with fast, accurate information from Teri. The Orlando Avenue Top Team handles the details and follow-up that are important to the success of your transaction.
Get Orlando Daily News delivered to your inbox! Subscribe here!
By: Homekeepr, Rob Morelli