August 8th, 2023 by tisner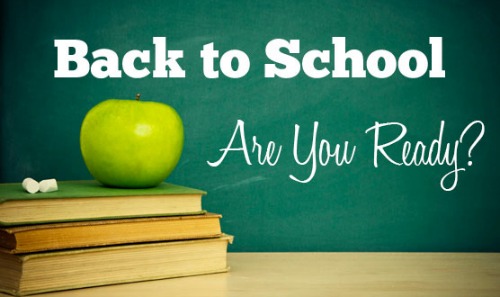 In most parts of the US this time of year, there is a lot of groaning by kids who are heading back to school, and some parents as well, because they dread the busyness of the school being in session.  Take the dread out by getting organized and staying organized so that it becomes a routine for you and your kids. 
With sales and coupons abounding at every store this time of year, we usually end up with more school supplies than we need.  Have a dedicated storage spot for everything for easy access when it's time to replenish.  Donating some of those extra supplies to the school or organization who help kids in need is a good thing, too.

 

If your school requires uniforms, go through old ones, and if they're not worn or stained, take them to your school office so other students have a change of clothing in case of spills or accidents. 

 

Getting ready for school begins the night before.  Set a bedtime, get a good routine going, and stick to it.  It can help reset your child's body clock so that even when things get busy, they'll be ready for sleep at their set time.

 
Even if they haven't yet learned to tell time, get your child an alarm clock.  Set the alarm and help them be responsible for getting themselves up.  

 

Have all their school clothes for the week hanging on a wreath hanger on the back of their bedroom or closet door or folded on their dresser.  This way, they can decide what to wear each day without staring at a closetful of clothes.

 

Let the kids pitch in with lunch prep.  Have their lunchboxes, storage containers, plastic bags and drink containers all in one easily-accessed spot in a kitchen cabinet. Good Housekeeping has a video with some great tips for packing up lunches.

 

Breakfast on the go can be so much more than a toaster pastry and juice box.  Mique from Thirty Handmade Days has compiled a list of links of 31 healthy make-ahead meals that kids will love!

 

Whether you have a mudroom or not, place some baskets or totes near the door for shoes, bookbags and sports bags.  It certainly helps with "I can't find…" when it's time to get them out the door.

 
After-school routines can vary, with extracurricular activities, sports, and lessons.  Keep a white board in a prominent place and have everyone's schedule listed by days of the week.  Have the kids go over their schedule the night before so they'll be prepared for their activities the next day.

 

Sometimes children come home from school and can't wait till dinner and want to eat a full meal.  Have some snack bags of sliced fruit or veggies keeping cold in the fridge.  Add some fruit dip or ranch, and they'll have a yummy snack that will tide them over until meal time.

 
Getting in a routine doesn't mean there won't be mishaps or struggles or lost socks.  Go with the flow and remind the kids of the importance of putting things in their place or having things ready to go.  When they see you getting things ready beforehand, they'll pick up your habits, get used to it, and it will soon be second nature.
Access Teri's one-stop Orlando FL home search website.
Teri Isner is the team leader of Orlando Avenue Top Team and has been a Realtor for over 24 years. Teri has distinguished herself as a leader in the Orlando FL real estate market. Teri assists buyers looking for Orlando FL real estate for sale and aggressively markets Orlando FL homes for sale.
You deserve professional real estate service! You obtain the best results with Teri Isner plus you benefit from her marketing skills, experience and ability to network with other REALTORS®. Your job gets done pleasantly and efficiently.  You are able to make important decisions easily with fast, accurate information from Teri. The Orlando Avenue Top Team handles the details and follow-up that are important to the success of your transaction.
Photo credit: rocketcitymom.com