May 26th, 2020 by tisner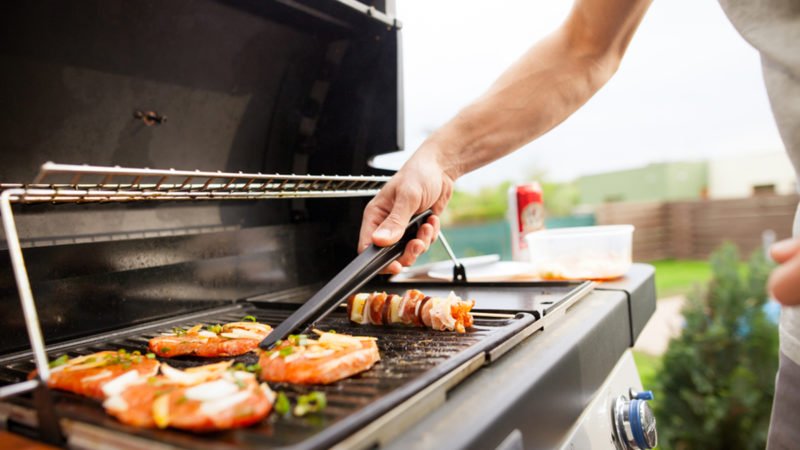 Ready for cooking and dining al fresco? If so, it's time to make sure your grill is ready to cook up some tasty food! 
Charcoal Grills 
A 

dirty grate needs to be deep-cleaned:  burning off the caked-up food/grease is your first step.  Start a fire in the grill, wrap the grates in foil, put them in place, and close the lid.  Once the fire is out and the grates are cool to the touch, rub off t

he burnt stuff with the balled-up foil or a wire brush.

 

Once the worst is off the racks, use a baking soda/water paste and a strong scrubbing pad or brush to remove as much of what's left. Wash with warm water and good dish soap, and rinse well.

 

Rub the gr

ate down with a towel soaked in vegetable oil to start the seasoning process for non-stick cooking.

 

Inspect the outside of the grill for over-wintered insects, debris and rust. If you find rust, wipe away as much as you can w/ a surface-appropriate cloth, 

and use a cloth dampened with a half-water, half-vinegar solution to remove the rest of it. Keep the grill covered to avoid moisture and more rust.

 

Any baked-on grease or carbon flakes on the lid or bottom of the grill should be removed with a wire brush. 

This build-up can cause uneven heating, and as a result, uneven cooking. Wash the lid and bottom of the grill with warm soapy water, and allow to air dry, but wipe any pooling water off with dry paper towels.

 
Gas Grills 
Before you get started on cleaning

, check your propane line for leaks.  Learn how to do 

this simple test from this video

 from Weber.

 

The grates on gas grills are normally made of cast iron and

 can take a steaming to clean them:  heat up the grill, and when the grates get hot, turn off the heat. Wearing a grill glove or mitt, use a wet grill brush to scrub and steam off any 

cooked-on b

uild up.

 

Grill burners can be unclogged with the straightened end of a paper clip, scrubbed with a wire brush, then wiped down with soapy water.

 

Scrape the grease pan clean, and if it's removable, wash it in hot, soapy water; if the pan is stationary, clea

n it as best you can using dry paper towels to remove as much grease as possible, then follow with hot, soapy water.

 

Once the pan and burners are clean, wipe out the interior with a damp cloth, or scrub pad. Replace the burner covers and grease pan.

 
Get th

e grates ready for future cooking by seasoning them.  Turn the grill on high heat for about ten minutes, and after turning off the heat, rub the grates down with paper towels or a grill towel soaked with vegetable oil. Doing this before and after every gri

ll session will keep them clean and virtually non-stick.

 
Cooking on the grill should be not only tasty, but safe! Use the right tools, and follow the guidelines in the owner's manual.   Once the grill is cleaned up, it's ready to help you create great Summer meals and memories! 
Access Teri's one-stop Orlando FL home search website.
Teri Isner is the team leader of Orlando Avenue Top Team and has been a Realtor for over 24 years. Teri has distinguished herself as a leader in the Orlando FL real estate market. Teri assists buyers looking for Orlando FL real estate for sale and aggressively markets Orlando FL homes for sale.
You deserve professional real estate service! You obtain the best results with Teri Isner plus you benefit from her marketing skills, experience and ability to network with other REALTORS®. Your job gets done pleasantly and efficiently.  You are able to make important decisions easily with fast, accurate information from Teri. The Orlando Avenue Top Team handles the details and follow-up that are important to the success of your transaction.
Get Orlando Daily News delivered to your inbox! Subscribe here!
Photo credit: taste of home