March 7th, 2018 by tisner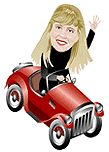 All your life, you have seen For Sale signs in front yards, and there's always a Realtor's name, and in these modern times, a photo of them.  How did the seller decide on that Realtor?  Did they open the paper to the classifieds, close their eyes, and point to a spot in the Homes for Sale section?  That's very unlikely, and it may take a few interviews, but you and your Realtor should be a good fit.  
Any friends that have recently bought or sold their home can get you started on a reference list.  Ask them what they liked most/least, and what they would do differently.

 

Look to the internet for initial research.  Go down your list and search for each Realtor's listings, blogs, and testimonials. Record contact information of Realtors you're most interested in.

 

Call each Realtor and set up an appointment to meet for a Q&A session.

 
Before your first meeting, familiarize yourself with real estate professionals terms, as each title has a different job.

 

Have this list of questions to ask on hand at every meeting:

 
How long have you been in real estate?

 

Are you in the real estate business full-time or part-time?

 

Do have more buying or selling experience?

 

How many homes have you sold in the past twelve months?

 

Do you specialize in any certain neighborhoods or locations?

 

How many clients are you working with now?

 

What's the best mode of communication for you?

 

Do you utilize the internet and social media to list your homes for sale?

 

What makes you stand out in our local market?

 

What should I know as a seller/buyer?

 
A good Realtor welcomes these questions and will be honest with you when they answer them.

 

Don't be surprised if the real estate pro interviews you as well! They need to know about you as much as you need to know about them.

 

Meeting with potential Realtors help you see their personalities, and having good chemistry is essential to your Realtor-client relationship.  You will be spending a lot of time with each other.

 

References with contact information are essential and can help you seal the deal with the right real estate professional for you and your needs.

 

If the Realtor is new in the field, don't count inexperience against them.  They should be eager to add your sale to their portfolio and want to offer you a great experience.

 
Once again, you will be spending a great deal of time with your Realtor, on the phone as well as in person.  Rismedia has more qualities and information for Realtor-hunting before the home hunting begins.  You will be sharing a lot of personal information with them, and a good relationship is vital to the sale or purchase of your home.  All your research could lead to a long-term relationship, not just a real estate agent. 
Access Teri's one-stop Orlando FL home search website.
Teri Isner is the team leader of Orlando Avenue Top Team and has been a Realtor for over 24 years. Teri has distinguished herself as a leader in the Orlando FL real estate market. Teri assists buyers looking for Orlando FL real estate for sale and aggressively markets Orlando FL homes for sale.
You deserve professional real estate service! You obtain the best results with Teri Isner plus you benefit from her marketing skills, experience and ability to network with other REALTORS®. Your job gets done pleasantly and efficiently.  You are able to make important decisions easily with fast, accurate information from Teri. The Orlando Avenue Top Team handles the details and follow-up that are important to the success of your transaction.
Get Orlando Daily News delivered to your inbox! Subscribe here!