April 30th, 2019 by tisner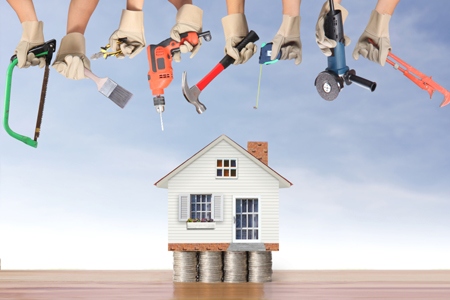 Thinking about doing some home improvements?  Whether it's a kitchen or bathroom remodel, a whole-house painting, or floor refinishing, there's a time of year when these jobs are easier to get completed, mainly because of how the weather affects not only construction, but the quality of the finished product as well.  Find the project you're considering, and see when it'll be the right time to get to work:  
Additions, because of needing a new foundation, could be started in late Winter/early Spring when the ground is still cold and more compact.  It makes for better digging and concrete pouring and setup. 
Exterior door replacement would be convenient any time except Winter, just in case there are any issues and the doors aren't a quick switch. 
Exterior painting, for many reasons, is a better idea in early to late Summer, when temperatures are above fifty degrees. 
HVAC work, in non-emergency situations, should be done in the off seasons–new heater in warm months, air conditioning before it's sweltering outside. 
Interior remodeling like kitchen and bathroom redo's, can be done practically any time.  The main thing to keep in mind here is warm months are busier for contractors, and that can mean a job done in a hurry, or higher prices. 
Outdoor projects, even though a popular time for construction is the warmer months, should be started in late Winter, simply because you want to be able to spend your Summer enjoying your new outdoor space! 
Refinishing hardwoods is probably best completed during the times of year when humidity is low for the best finish, and so windows can be opened to allow air circulation to help get rid of any associated odors. 
Roofing, believe it or not, may get better results in hot months of the year, as the most common materials used will need warm temps for the best performance. 
Window repair/replacement is managed well during warm months or when frequent rain isn't a factor. 
Keep in mind that Spring and Summer are busiest time for contractors.  If you are hiring your job out, the process should be started long enough in advance that you don't have to be put on a wait list.  On that same note, during slower months, a contractor may give you a deal on the work, because there aren't other jobs to be done, and you get their full attention!  Planning is key for a smooth finish on any project, any time of year. 
Access Teri's one-stop Orlando FL home search website.
Teri Isner is the team leader of Orlando Avenue Top Team and has been a Realtor for over 24 years. Teri has distinguished herself as a leader in the Orlando FL real estate market. Teri assists buyers looking for Orlando FL real estate for sale and aggressively markets Orlando FL homes for sale.
You deserve professional real estate service! You obtain the best results with Teri Isner plus you benefit from her marketing skills, experience and ability to network with other REALTORS®. Your job gets done pleasantly and efficiently.  You are able to make important decisions easily with fast, accurate information from Teri. The Orlando Avenue Top Team handles the details and follow-up that are important to the success of your transaction.
Get Orlando Daily News delivered to your inbox! Subscribe here!
Photo credit: RISmedia