September 17th, 2020 by tisner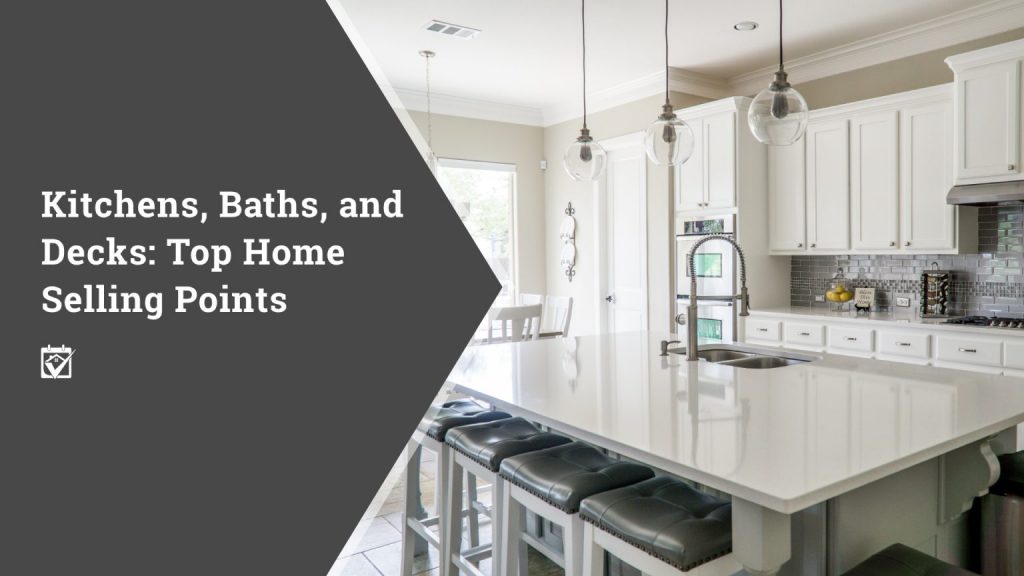 When it comes time to sell your home, you obviously want it looking its best so that prospective buyers will fall in love with it. This may lead to you consider touching up or remodeling parts of your home to make the best possible impression. If you're trying to figure out the best parts of the home to give special attention to, there are a few places that buyers are more likely to pay attention to than others. Chief among these are the kitchen, the bathrooms and decks.
Considering the Kitchen
A lot of work goes on in the kitchen, so it makes sense that homebuyers want to make sure that the kitchen meets their needs. If your kitchen is dirty, cramped or outdated, that could raise a few red flags. Most potential buyers are looking for a big, open kitchen with modern appliances and usually a few key features like a dishwasher or kitchen island.
Obviously, your home doesn't need to have all of these things to sell, and it may not even be realistic for you to make those sort of upgrades. Still, it's possible to find a balance between a small, cramped kitchen and a potential buyer's dream kitchen. Taking a moment to see how well your kitchen meets that balance can help you to see if there are any tweaks that you could make to improve the likelihood that a buyer will want to purchase your home.
A Focus on Bathrooms
The bathroom is one of the most important rooms in a house, and buyers want to be confident that things will work well in the bathroom when they're in there. There's a lot that goes on in the bathroom, though; beyond the obvious, this is also where people get ready in the morning, take their showers or baths, brush their teeth and sound their absolute best when singing along to a favorite song.
Because of this, there's always a wow factor involved when a potential buyer sees a nice bathroom. This can be a combination of new and nice-looking fixtures as well as cleanliness, lack of obvious mildew or water damage, layout and things like adequate lighting and sufficient mirrors. Most bathrooms only have a limited amount of space to work with, but you'd be surprised how much of a difference you can make with a few tweaks and upgrades.
Enjoying the Deck
Not every home has a deck, but those that do always get oohs and aahs from potential buyers. A lot of homeowners want to be able to enjoy their time outside of their home, and having a deck can make this a lot easier since you can set up tables, chairs, a grill or anything else in a secure and flat area outdoors.
This isn't to say that you have to build a deck to sell your house, though some sellers actually do make significant changes to landscaping and outdoor areas to spruce things up. If you already have a deck, take the time to make sure it's recently painted or stained and is otherwise in good condition. A deck can make a big impression, but an ugly or damaged deck can make the wrong sort of impression on your potential buyer.
Sprucing Up the Whole Home
Obviously, there are other parts of the home that you can make changes or updates to if you're getting ready to sell your home. General repairs, remodels or upgrades can interest potential buyers regardless of where they occur. But take care of any obvious damage, and then focus on the kitchen, bathrooms and decks, before you work on any other big areas.
Bringing in the Pros
If your home needs a little work done before it's ready to sell, you can turn to HomeKeepr to find the pros that you can trust to get the job done. Sign up for a free account today and you can locate contractors based on real recommendations from people you trust. This will help make sure that you get the right pros for the job.
Access Teri's one-stop Orlando FL home search website.
Teri Isner is the team leader of Orlando Avenue Top Team and has been a Realtor for over 24 years. Teri has distinguished herself as a leader in the Orlando FL real estate market. Teri assists buyers looking for Orlando FL real estate for sale and aggressively markets Orlando FL homes for sale.
You deserve professional real estate service! You obtain the best results with Teri Isner plus you benefit from her marketing skills, experience and ability to network with other REALTORS®. Your job gets done pleasantly and efficiently.  You are able to make important decisions easily with fast, accurate information from Teri. The Orlando Avenue Top Team handles the details and follow-up that are important to the success of your transaction.
Get Orlando Daily News delivered to your inbox! Subscribe here!
By: Homekeepr, Rob Morelli