March 2nd, 2010 by tisner
Hot air balloon rides are a perfect way to celebrate a special occasions such as a birthday, engagement, anniversary or even a wedding. There is no experience quite like peacefully drifting over the lakes, wildlife, skylines and all of Orlando's attractions.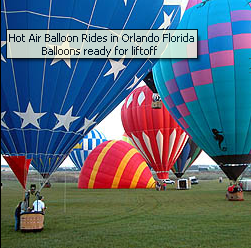 Bob's Balloons flies over Orange, Osceola, Lake and Polk Counties and will customize a flight just to you. At the end of your flight, you will enjoy a champagne brunch and souvenirs to share with family and friends.
If you have an event and want a hot air balloon in your back yard or parking lot? We can tether it down and do captive flights.
Don't miss this very special Orlando experience. You will talk about it for the rest of your life!!