September 20th, 2022 by tisner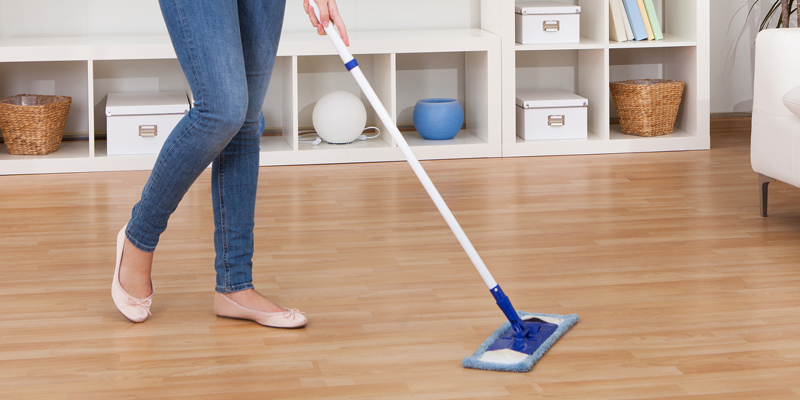 Choosing laminate wood flooring for a home is a really good decision for a homeowner.  Laminate flooring has come a long way since its beginning a few decades ago, with better quality, ease of installment, and varieties to choose from–you can even get laminate to look like stone! Caring for this manufactured product can be tricky, but with the right cleaning and care, it can look great for years to come.
    Protecting the Floor
Laminate flooring isn't real wood–it's an image of wood adhered to fiberboard, with a bottom that is moisture damage-resistant. It is covered with a clear protectant that is hard enough to protect it from scratching and pitting.
Although it is made to prevent moisture damage, it still needs to be protected from liquids. Any spills need to be cleaned up as quickly and thoroughly as possible.
The top layer of sealant is there to protect the floor, but if the dining room chairs are constantly pulled from the table, put some felt pads on the legs to prevent any scratching.
Other pieces of furniture that don't get moved often still may need something under the legs, and felt pads or newer style plastic casters work perfectly for heavier pieces.
High traffic areas are best protected with area rugs and runners. Be sure to use a gripper mat or tape underneath rugs to prevent slipping.
Even though laminate is great for homes with pets, they can still get scratched in extreme situations. Keep pet's toenails trimmed to prevent this. Pet accidents need to be cleaned immediately to prevent moisture damage and stains.
Some toys with sharp edges can dent or pit the floor, so they should be used with care, or in places protected with area rugs.
Sometimes an area of the floor can get damaged, and the best solution is to call the manufacturer to get their advice. Most even sell repair kits for small DIY jobs.
Keeping It Clean
The first defense in keeping any floor clean is a mat on both sides of a door that leads outside. A "no shoes" policy could even be put in place to keep even more dirt out, as well as preventing scuff marks.
Removing dirt and small particles is best done on laminate floors with a microfiber cloth or mop. Sweeping with a broom can scratch the surface over time, and usually doesn't get all of the dirt, anyway.  Many styles of reusable and washable cloth floor cleaners are available and are perfect for laminate.
Electric sweepers are also excellent for vacuuming dirt and pet hair. Make sure any vacuum-type sweeper has a gentle brush motion.  Too heavy, and it can scratch.
Mopping can create streaks because of too much detergent in the cleaner. The best solution for mopping grime or sticky spills is using two parts warm water, one part white vinegar, a few drops of dishwashing liquid, and a drop or two of lemon essential oil. The essential oil helps keep the vinegar odor down, but that smell fades quickly.  Mix this in a spray bottle, and spray each area as you mop.  The less liquid used, the better for the floor.
In case of streaks, use a microfiber cloth or cloth diaper to buff the floor. These are best for a great shine on the floor. Never use dusting spray, as it can cause floors to be slippery.
Laminate flooring can be an asset to a home, without the expense and extra work a hardwood floor can bring. Without a lot of extra cost, the flooring can look new for many years, as long as attention is paid to its care and cleaning.
Access Teri's one-stop Orlando FL home search website.
Teri Isner is the team leader of Orlando Avenue Top Team and has been a Realtor for over 24 years. Teri has distinguished herself as a leader in the Orlando FL real estate market. Teri assists buyers looking for Orlando FL real estate for sale and aggressively markets Orlando FL homes for sale.
You deserve professional real estate service! You obtain the best results with Teri Isner plus you benefit from her marketing skills, experience and ability to network with other REALTORS®. Your job gets done pleasantly and efficiently.  You are able to make important decisions easily with fast, accurate information from Teri. The Orlando Avenue Top Team handles the details and follow-up that are important to the success of your transaction.
Get Orlando Daily News delivered to your inbox! Subscribe here!