September 12th, 2023 by tisner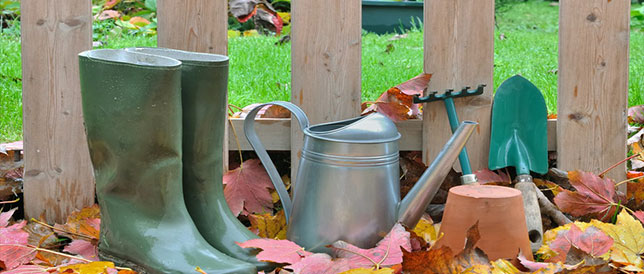 Summer is almost over, and for most gardeners and those who love to work in the yard, it is time to tidy things up to prepare for cooler weather. It's the best time to prepare for next year, even though the next planting season is months away.  Get to work for a head start on Spring.  
Vegetable Garden 
If you still have tomatoes or peppers ripening, either take up the plants and hang in a cool place to let them ripen on the vine, or protect them from frost with burlap or row covering over their stakes.

 

If you have cool weather plants, make sure they're getting plenty of water, and leaving them to grow until after frost makes them taste better! 

 

Clean up all dead or dying plant debris, because it can cause diseases and help insects that like to overwinter in the rotting vegetation.  If you don't have a compost pile, now is a good time to start one with healthy debris. If it looks diseased, discard it or burn it.

 

Adding lime to the garden soil is best done in the Fall.  Take a soil sample to your local extension office for a free soil test so you'll know how much you need to add.

 

Cut back perennial herbs, and freeze or dry them for winter cooking.

 

Think about adding a cover crop.  Cover crops add nutrients to the soil, and prevent soil erosion.  Find a list for your region at https://www.almanac.com/content/cover-crops-us

 

Before storing garden tools, remove all dirt and debris, then spray with a 10:1 mix of water and bleach.  After they dry, oil tools that have moving parts, make any repairs that may be needed, and hang them out of traffic areas in your shed or garage.

 
Landscaping 
Plant trees and shrubs in the Fall.  The cooler temps and onset of dormancy gives them the perfect opportunity to establish their root systems. They still need plenty of water, so make sure you keep them hydrated. 

 

Apply fertilizer to your lawn, and aerate it as well. Walking behind the fertilizer spreader in spike-soled shoes is a great way to do these two important things at once.  

 

The last time you mow, keep the level at 1¼".  This will keep leaves from settling on your lawn, as well prevent disease and insect over-wintering.

 

Cut back your perennials in the flower beds, mulch them well, and divide tuberous plants like daylilies and irises.  Hostas also benefit from a Fall division.  

 

If you have any young plants or trees, mulch well around them to protect them from freezing once the thermometer drops.

 

Update container plantings with chrysanthemums, ornamental cabbages, pansies and interesting grasses.  These should take you through the Winter and provide interest and color for the drab days ahead.

 

Plant flower bulbs for a beautiful, maintenance-free Spring flowerbed.  Daffodils, tulips, hyacinth, and crocuses will provide color for weeks.

 
Getting your garden and yard ready for Winter not only makes things look better, but it will certainly help once Spring gets here. The weather can be unpredictable come March and April, so take advantage of the cool, long days of Fall to prepare for next year's growing season. 
Access Teri's one-stop Orlando FL home search website.
Teri Isner is the team leader of Orlando Avenue Top Team and has been a Realtor for over 24 years. Teri has distinguished herself as a leader in the Orlando FL real estate market. Teri assists buyers looking for Orlando FL real estate for sale and aggressively markets Orlando FL homes for sale.
You deserve professional real estate service! You obtain the best results with Teri Isner plus you benefit from her marketing skills, experience and ability to network with other REALTORS®. Your job gets done pleasantly and efficiently.  You are able to make important decisions easily with fast, accurate information from Teri. The Orlando Avenue Top Team handles the details and follow-up that are important to the success of your transaction.
Photo credit: Town 'N Country Garden Center