February 25th, 2010 by tisner
This post starts the beginning of a series on 365 Things To Do Around Orlando.  We will be letting you know about  fun places for kids, young and old! Please jump in and comment on fun things you know about!
First in our series, is Orlando's first major attraction, the Magic Kingdom. This theme park is one of four parks in Walt Disney World Resort and the place where fantasy is reality.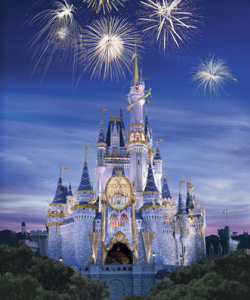 Cinderella's Castle is probably one of the most recognized pieces of architecture in America and the hub of the park. What little girl hasn't dreamed of living here?
Discover the enchantment of fairy tales and the beloved Disney characters. Enjoy the fantastical boat ride through 'It's a Small World', soar to the sky with 'Dumbo the Flying Elephant', cruise down the river on a safari boat, take a whirl in a giant tea cup at the 'Mad Tea Party' and Oh! so much more!!
Whether you live in Orlando year round or just visiting for a few days, put the Magic Kingdom on the top of your list of things to do with the kids. They will talk about it for the rest of their lives!