June 25th, 2020 by tisner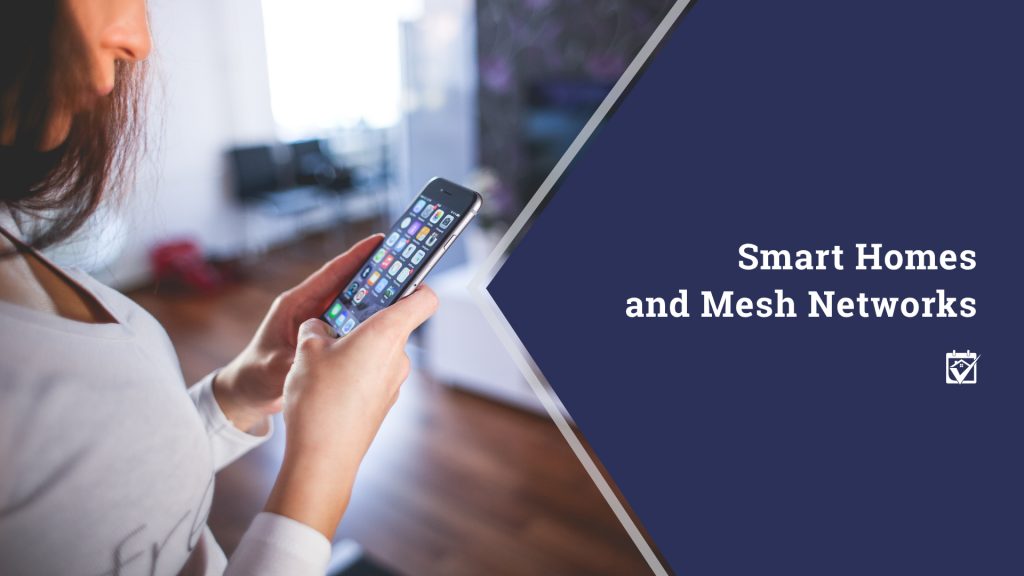 Smart homes and smart home tech are becoming increasingly popular these days. Various smart home devices, sensors and more can add new functions to a home, automating some tasks and even increasing your home's security. Unfortunately, some homeowners run into problems with smart home devices that have to be on the same home network to interact. Traditional WiFi extenders sometimes create separate but overlapping networks, meaning that devices outside of the range of your wireless router might not work correctly.
There are ways to get around this, however. One option is to set up a mesh network within your home. Unlike traditional WiFi extenders, mesh network extenders create a single wireless network that all your devices can attach to. If you're considering adding smart home devices and have signal problems within your home, a mesh network setup is definitely worth considering.
What Exactly Is a Mesh Network?
With a standard WiFi network, your router or other access point typically serves as a hub for network connectivity and any extenders or other network components connect directly to it. Mesh networks are set up a bit differently, however. In a mesh network, each device connects not only to that central hub but also to each other. This creates a "mesh" of paths throughout the network, allowing signals to route through the network in multiple ways to ensure even coverage. This helps to prevent dead spots or weak signals, eliminating the need for overlapping wireless networks.
Do You NEED a Mesh Network?
Mesh networks can be useful, especially if you're trying to keep smart home devices on the same network so that they can interact with each other. Depending on your home and where your wireless access point is located, though, they may not be entirely necessary. If your router is centrally located, or has a strong enough signal to provide good coverage throughout your home, your smart home devices should be able to communicate even without a mesh network.
With that said, mesh networks can be very useful if some parts of your home have weaker signals than others or if you plan on adding devices outside of your home and aren't sure how well your network will be able to handle it. Even if your network seems adequate for your needs, you may consider a mesh option to create more uniform coverage.
Smart Home Devices on the Mesh
There are a wide range of smart home devices that could benefit from being connected to a mesh network. Devices such as cameras and intrusion sensors should stay online and connected, regardless of whether they're inside or outside the home. Likewise, safety sensors such as smart smoke detectors need to be able to communicate, as do heat sensors and even leak sensors, to ensure that your home is well covered without the need for multiple devices or apps to help them stay connected. Even devices such as smart door locks and a smart thermostat can benefit from being on the same network to make automatic temperature adjustments more intuitive depending on whether the doors are locked or not. The more you're able to connect your devices to a single network, the more likely you are to come up with innovative ways for your various smart home devices to work together.
The Smart Home of Your Dreams
Whether you want just a couple of smart home devices or a fully automated house, picking the right components to make your home a little smarter can sometimes be a daunting task. This is especially true if the devices you want actually need to be installed as opposed to simply plugging them in. Fortunately, HomeKeepr can help you get the smart home you want. Sign up for a free account today to connect with electricians and other specialists who can help you pick the devices you need and get them installed at a price you can afford.
By: Homekeepr
Access Teri's one-stop Orlando FL home search website.
Teri Isner is the team leader of Orlando Avenue Top Team and has been a Realtor for over 24 years. Teri has distinguished herself as a leader in the Orlando FL real estate market. Teri assists buyers looking for Orlando FL real estate for sale and aggressively markets Orlando FL homes for sale.
You deserve professional real estate service! You obtain the best results with Teri Isner plus you benefit from her marketing skills, experience and ability to network with other REALTORS®. Your job gets done pleasantly and efficiently.  You are able to make important decisions easily with fast, accurate information from Teri. The Orlando Avenue Top Team handles the details and follow-up that are important to the success of your transaction.
Get Orlando Daily News delivered to your inbox! Subscribe here!