August 6th, 2020 by tisner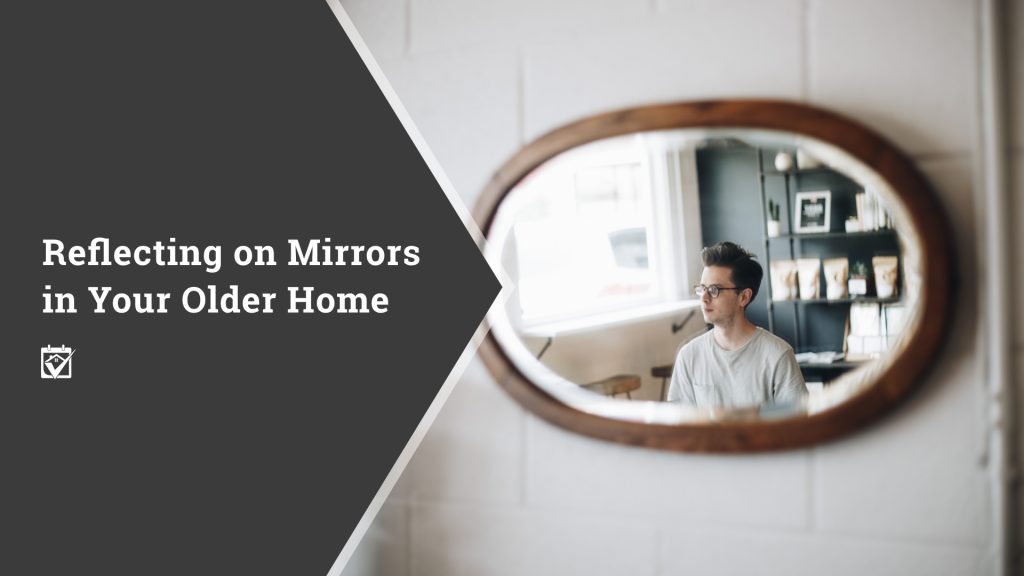 If you have an older home, there's a decent chance that somewhere in the house you have at least one large, bulky wall-mounted mirror. While not all older homes will feature one of these mirrors, various types of mirrors do seem to come back into fashion again and again over time. Whether you've got a single large mirror mounted directly to the wall or mirrored panels that cover an entire wall surface, it's important to remember that you still have options to update your home even if your mirrors have been around for decades.
Mirrors as Decoration
It's not surprising that mirrors keep coming back into style as a form of home decoration. They capture the attention, and when done well, a mirrored accent can make a room seem all the larger and more impressive. Unfortunately, some mirrors can dull or become scratched over time, and whether it's a matter of the glass aging poorly or the silvering of the mirror losing its luster, this can have a negative impact on the room as a whole. In some cases, the mirror glass may even become cracked in one or more places, which not only spoils the look but can also create a potential hazard that you have to keep people away from. Regardless of how time has affected the mirrors in your home, it should be obvious why proper maintenance is important.
Wall-Mounted Mirrors
One common type of mirror that you find in older homes is the wall-mounted mirror. Unlike more modern mirrors that use brackets or other mounting hardware to hold the mirror next to the wall, some of these older mirrors are actually attached directly to the wall with adhesives or other materials. Being adhered to the wall is useful insofar as it keeps the mirrors from shifting or becoming loose as time goes by, but it does limit your options when it comes to moving or replacing the mirror. These mirrors take some work to remove if you plan to redecorate, and the removal process often damages the drywall or paneling behind the mirror, so you will probably have to do some repairs once the mirror is free.
Mirrored Wall Coverings
Unlike single mirrors that are attached to the wall, mirrored wall coverings are often installed using a track system. This secures multiple mirrored panels without the need to adhere and line up each one. This doesn't mean that you won't find mirrored panel walls that are applied with adhesives, of course, but track systems are common, as the brackets used in track systems provide more stability. Brackets make removing or replacing panels easier, though the process can still leave some damage to drywall or other wall surfaces that will need to be patched later on.
Moving on From Mirrors
Regardless of the type of mirror that's in your home, if you feel the need to remove it then you'll have a little bit of work ahead of you. With adhesive-based mirrors, you'll often need heat the adhesive around the edges first; this softens it and allows you to begin working the mirror loose. It may then be possible to pry the glass free, or you may need to work a piano wire behind the glass to separate the adhesive. Track-mounted panels are a bit easier to deal with since you can unscrew the brackets to remove the panels, then pry the tracks off the wall. Regardless of how you deal with the mirrors, be sure to use hand and eye protection and take your time to prevent potential injuries that might result from broken glass.
Reflecting on the Job
Sometimes, remodeling projects involving older mirrors can be a bit much to tackle as a DIY affair. Fortunately, there are a number of skilled pros out there who can help you either update your mirrors or replace them with something a bit more modern. Sign up for a free HomeKeepr account today to find the pro that you need to get the job done.
Access Teri's one-stop Orlando FL home search website.
Teri Isner is the team leader of Orlando Avenue Top Team and has been a Realtor for over 24 years. Teri has distinguished herself as a leader in the Orlando FL real estate market. Teri assists buyers looking for Orlando FL real estate for sale and aggressively markets Orlando FL homes for sale.
You deserve professional real estate service! You obtain the best results with Teri Isner plus you benefit from her marketing skills, experience and ability to network with other REALTORS®. Your job gets done pleasantly and efficiently.  You are able to make important decisions easily with fast, accurate information from Teri. The Orlando Avenue Top Team handles the details and follow-up that are important to the success of your transaction.
Get Orlando Daily News delivered to your inbox! Subscribe here!
By: Homekeepr, Rob Morelli