April 16th, 2010 by tisner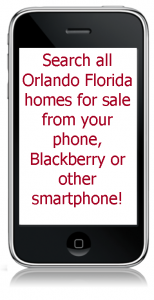 It's Saturday afternoon and you are cruising neighborhoods looking at Orlando Florida homes for sale. You drive up to a home that looks interesting. You go to pull a property flyer out of the brochure box that is in the front yard near the For Sale sign to get the details. BUT the brochure box is empty, so no details are available. It's so frustrating!
Frustration no more!! There is new mobile technology allowing you to search all Orlando Florida homes for sale right from your phone. Any phone!!
You can view all Orlando Florida MLS listings anytime, anywhere from the convenience of any standard cell phone or smart phone including the iPhone, BlackBerry, Android and Palm.
You can search for properties based on their GPS location, address, city or zip code.


Get property information, including price, beds/baths, taxes, estimated mortgage, features, maps, photos and more!

When you are ready to see a property, the "Call to See" feature connects you directly to an agent.

Here's how it works…
Even better: Text FLHOME to 87778.