July 15th, 2010 by tisner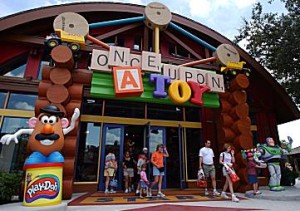 Bring out the kid in everyone at Once Upon a Toy in Downtown Disney.  This fun Orlando shop will have everyone playing like a kid.  This great shop combines the magic of Disney with the fun of Hasbro.  As you stroll through the 5 different rooms you will enjoy that they are all different themes adding to the excitement of this shopping experience.  Take home Mickey Mouse ears for your Mr Potato head and other fun Disney themed items.  Pick up Clue that's set in Disney's Haunted Mansion attraction and other games. 
Your little one will love being able to build your own My Little Pony play set with unique accessories.  And they will love the child-size version of the Walt Disney World Railroad as it travels along a suspended track.  They also offer classic Hasbro games that will bring out the kid in everyone.  So don't miss this exciting Orlando shopping experience.
Free mobile app to search all homes right from your phone!