July 16th, 2010 by tisner

Experience the feeling of floating through the air with exceptional views of Orlando at Orlando Skydiving.  The friendly staff at Orlando Skydiving will get you trained and certified to experience skydiving.  There are two different options for experiencing your first skydive.  You can tandem skydive where you will be given training that is usually less than an hour.  Then you will be with your instructor for your entire jump.  You will free fall for 60 seconds then you have a 7 to 9 minute canopy ride.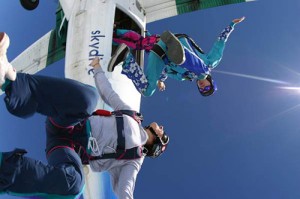 For the more adventurous you can train for the Accelerated Free Fall, which is the most advanced method of training.  This type of jump requires 4 to 6 hours of training that will teach you the fundamentals of skydiving.  After your class you will be able to jump with a USPA rated AFF jump master who will assist you in your freefall.  Once the main canopy is open you will be assisted via radio as you control your descent back to the drop zone. 
Either one of these options will leave you will an exhilarating ride back to earth.  Enjoy your time floating through the air at 10,000 and the exceptional views of Orlando. 
Free mobile app to search all homes right from your phone!