April 24th, 2012 by tisner
There were 12,128 Orlando FL foreclosure homes in March 2012, according to RealtyTrac.com.  The average sales price of an Orlando home was $126,288 and the average sales price of a foreclosure home was $104,270, a $22,018 savings.
Orlando FL Foreclosure Activity and 30 Year Interest Rate
The interest rate on a 30 year mortgage was 3.95% in March and there were 986 new foreclosures compared to 1,171 new foreclosures in February.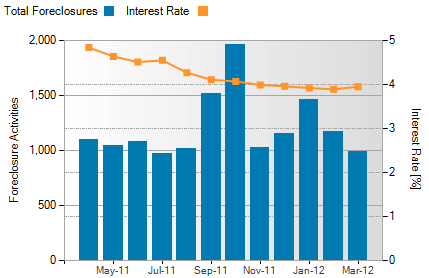 Foreclosure activity is based on the total number of properties that receive foreclosure filings – default notice, foreclosure auction notice or bank repossession – each month. Interest rate is based on the average 30-year fixed rate from Freddie Mac Primary Mortgage Market Survey.
Orlando FL Foreclosure Geographical Comparison
Orlando FL foreclosures were 0.11% above national statistics, 0.04% below Florida figures and 0.01% below Orange County numbers in March.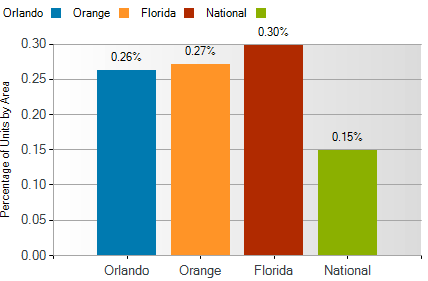 Orlando FL Foreclosure Activity by Month