April 26th, 2010 by tisner
Ever wanted to see the costumes that your favorite actors and actresses wore in those movies we love? They are here in Orlando at the Orange County Regional History Center.
This exhibit features more than 40 costumes, props, and models that span 60 years of film and television. From movies like "Star Wars," "Blade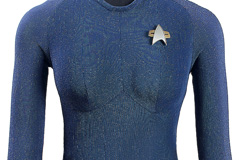 Runner," Indiana Jones," Ghostbusters II," "Batman," and many more. The Out of this World exhibit examines how costume design incorporates color, style, scale, materials, historical traditions and cultural cues to help performers and audiences engage in the way the characters are being portrayed. Some of the exciting costumes you will see include the jacket worn by Harrison Ford as Indian Jones, the leather jacket worn by Arnold Schwarzenegger in the film "The Terminator", and Darth Vader's cape, Jedi robe and light saber from the "Star Wars" trilogy and much more.
So check out this exhibit at the Orange County Regional History Center in the heart of Orlando.