March 19th, 2019 by tisner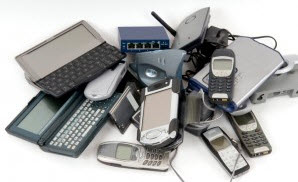 If you're like many people this time of year who are cleaning out or following the new "simplify" craze, you've come across a drawer filled with old cell phones and devices.  Don't throw these devices in the trash–they're bad for the environment.  They can be put to good use, whether by yourself or someone else!  Just make sure you reset the device settings to the factory settings.  If you're not sure how, DealNews has a guide to help you with that.  Now let's see what we can do with these unused gadgets! 
Recycling could be the easiest thing for you.  Get all of the devices in a box, and either call your local waste management to see where you 

can drop them off, or go to the 

Sustainable Electronics website

, and click your area on the interactive map, and it shows you where you can send or drop off your items.

 

American Cell Phone Drive

 is an organization that helps raise funds for thousands of organizations worldwide.  Follow the link, type in your zip code, and it will direct you to local places that

 will gladly accept your old cell phones.

 

Many large electronics retailers, online and brick-and-mortar, will accept your outdated gadgets for recycling, as well as the device manufacturers.  In some cases, they will purchase newer items (usually less than

 three years old) and

 put the amount on the retailer's gift card.  A quick search online will help with finding what stores will buy from you.

 
Organizations such as domestic violence centers, daycares, schools and veterans'

 associations are just a few plac

es that may take the donation where it can be used for education or for emergencies.  Call and speak with whoever is in charge to find out if they can use what you cannot.

 

You can always sell your devices, the newer the better, and put a bit of cash in you

r pocket, or donate the proceeds.  Social media is full of local "yard sale" pages where you can post items for free or

 use an online auction site to sell your goods for a fee.

 

A laptop or computer tower takes a little more work to 

erase all sensitive information

 from, but these can be donated or recycled as well.  

 

If the computer still works, call a local school, senior center, homeless shelter or youth program to see if they 

can use it.  Many will gladly take a free computer.

 

Do an online search to see if any local retailers or recycle centers will accept your laptop or computer, and when you call, make sure they can recycle laptop batteries, too.  In some cases, the lithium-i

on batteries must

 

be recycled separately.

 
Not only will you be paring down your clutter, but you can help someone in need or simply keep dangerous metals from the environment when you recycle or donate your unused devices.  Help yourself and someone else while you're purging the junk! 
Access Teri's one-stop Orlando FL home search website.
Teri Isner is the team leader of Orlando Avenue Top Team and has been a Realtor for over 24 years. Teri has distinguished herself as a leader in the Orlando FL real estate market. Teri assists buyers looking for Orlando FL real estate for sale and aggressively markets Orlando FL homes for sale.
You deserve professional real estate service! You obtain the best results with Teri Isner plus you benefit from her marketing skills, experience and ability to network with other REALTORS®. Your job gets done pleasantly and efficiently.  You are able to make important decisions easily with fast, accurate information from Teri. The Orlando Avenue Top Team handles the details and follow-up that are important to the success of your transaction.
Get Orlando Daily News delivered to your inbox! Subscribe here!
Photo credit: membershipsiteowner.com