January 17th, 2023 by tisner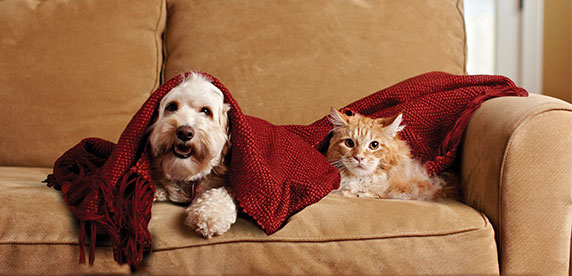 When you have pets and you are trying to sell your home there are a few ways that you can avoid your pets ruining your home sale.   Many times folks love animals but that doesn't mean they want to see evidence of your pets in your home when they are trying to envision themselves living there.  Below are a few ideas on how to not let your pets ruin your home sale.
Vacuuming your home is a great idea before you have someone tour your home for a showing but it is essential if you have pets.  Pet hair and tufts of fur can find their way into your guest's noses and faces if you aren't careful and that is not going to be good for your potential sale.  If you have someone who happens to sit on your furniture during their home tour you don't want pet hair to get all over them.  A good way to insure that this doesn't happen is to run a damp sponge over the furniture before they arrive.
As you already know pets are bad about leaving little surprises for you on your floors especially if you are gone during the day. Pet stains are not a welcomed sight to anyone that might be interested in buying your home.  Think about it, would you want to see someone else's pet mess when touring a home?   I think not.  Do your best to remove any types of these stains before your potential buyers come to tour your home even if you have to spend some money to get things cleaned and stains removed by professionals.
Pet odor is another thing that can ruin a potential home sale.   You are likely use to the way your pet smells and may not even be aware that they have an odor but they do.  Those folks who may come to tour your home will likely be able to smell it as soon as they enter the house.  Spraying odor neutralizing sprays can help with pet odor as well as perhaps having just baked some cookies for your guest to enjoy.  Whatever you have to do to get rid of the odor is what you need to do.
If your pet has a bed in your home it is best to stick it in the closet or to remove it from the home before your home tour begins.
These are just a few ideas on how to not let your pet or pets ruin your potential home sale.  Hopefully they will get you thinking in the right direction so that you may be more able to walk away with an offer.
Access Teri's one-stop Orlando FL home search website.
Teri Isner is the team leader of Orlando Avenue Top Team and has been a Realtor for over 24 years. Teri has distinguished herself as a leader in the Orlando FL real estate market. Teri assists buyers looking for Orlando FL real estate for sale and aggressively markets Orlando FL homes for sale.
You deserve professional real estate service! You obtain the best results with Teri Isner plus you benefit from her marketing skills, experience and ability to network with other REALTORS®. Your job gets done pleasantly and efficiently.  You are able to make important decisions easily with fast, accurate information from Teri. The Orlando Avenue Top Team handles the details and follow-up that are important to the success of your transaction.