April 2nd, 2010 by tisner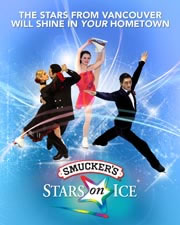 For one night only the Stars of Vancouver are headed to Orlando to bring you the excitement of their performances.  Head on over to Amway Arena on April 3, 2010 at 7:30 p.m. to see Olympic Silver Medalist Sasha Cohen, World Champion Evan Lysacek, Olympic Silver Medalist Tanith Belbin & Benjamin Agosto and more of the world's best skaters in this magical combination of artistry, athleticism, and great music.
So don't miss out on an exciting evening  in Orlando with your family and the stars of Vancouver.