July 30th, 2020 by tisner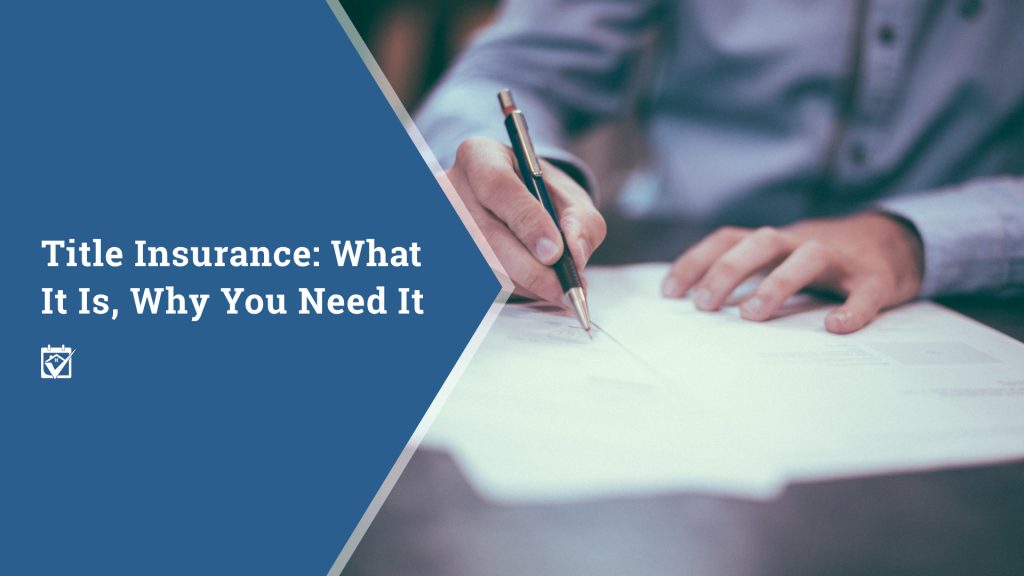 Buying a home is fraught with all kinds of peril, from home inspections that go terribly awry to negotiations that seem to go on forever and hinge on every little detail. But once you're through all of that, you're basically in the clear, right? For some buyers and sellers, maybe not, but title insurance can smooth out the rest of the bumps.
What Is Title Insurance?
There are two types of title insurance: the kind designed for lenders and the kind designed for owners. If you're buying a home with a mortgage, you'll automatically have to pay for lender's title insurance. It protects the bank if things go really haywire. Owner's title insurance is often optional, but it'll protect you as a buyer or seller should a title problem appear.
Title insurance starts with a title search, which is performed by an expert in examining titles and other real estate related documents. They comb through the historical records, looking at every transaction for clues that there might be a risk that someone could claim ownership of your current or future property. Usually titles are clean, meaning there's no significant risk that you'll be going to court to buy or sell the property, but once in a while there's a title cloud.
Title clouds can include things like mechanics liens, improperly executed wills and estranged spouses who haven't signed off on a sale at some point. The point of a title search, basically, is to uncover anyone who might be able to sue for ownership.
How Does Title Insurance Help?
Owner's title insurance helps in a couple of ways. First, the thorough title search required by the underwriters ensures you absolutely can legally buy and sell the property without any hitches. That's really important in securing your financial future. Second, the insurance itself helps make the title right if a cloud is discovered later by a different title search.
A few examples of how title insurance can fix a clouded title include:
Arranging the purchase of land to make the property whole. In areas where there are lots of older homes and structures that may have been built overlapping adjoining property, it's not uncommon to see a clouded title involving a small strip of land the owner of the property long believed to be theirs. In these situations, the title insurance can help with the cost associated with suing for title to that strip of land, or buying it from a neighbor, to make the property whole.
Covering the expense of collecting the proper signatures and recording documents abandoning ownership rights. Sometimes heirs (or additional owners) are uncovered for properties that have long been thought to be done and dusted. It's not an everyday thing, but when it happens, it can be very difficult to fix without a lot of help. For example, there might be an estranged spouse who still happens to be legally bound to the property, or a family member who had no idea they inherited part of an estate that was settled without their input.
Settling unpaid taxes, liens and other surprise debt. Title clouds aren't that common, but they do happen, and when they do, unpaid debts are often the problem. That might be a mechanic's lien that was forgotten about, back taxes that someone who inherited a property weren't aware of or other sorts of assessments that no one has documentation on. When this happens, the situation will dictate whether the seller of the property has to pay the debt, but it's the title insurance underwriters' jobs to make sure that there's no debt outstanding when a home is bought or sold.
Should You Get Title Insurance?
As with anything in the real estate market, you should consult with your real estate agent, mortgage lender and closing company or attorney before you refuse title insurance, but it can be your decision to reject it in many cases. For a small one-time fee, though, knowing that you'll be covered should something unexpected crop up during your ownership is a great relief. Create a HomeKeepr account today to find all the home pros you could possibly need to help navigate difficult homeownership obstacles like title insurance with confidence!
Access Teri's one-stop Orlando FL home search website.
Teri Isner is the team leader of Orlando Avenue Top Team and has been a Realtor for over 24 years. Teri has distinguished herself as a leader in the Orlando FL real estate market. Teri assists buyers looking for Orlando FL real estate for sale and aggressively markets Orlando FL homes for sale.
You deserve professional real estate service! You obtain the best results with Teri Isner plus you benefit from her marketing skills, experience and ability to network with other REALTORS®. Your job gets done pleasantly and efficiently.  You are able to make important decisions easily with fast, accurate information from Teri. The Orlando Avenue Top Team handles the details and follow-up that are important to the success of your transaction.
Get Orlando Daily News delivered to your inbox! Subscribe here!
By: Homekeepr, Rob Morelli