July 11th, 2018 by tisner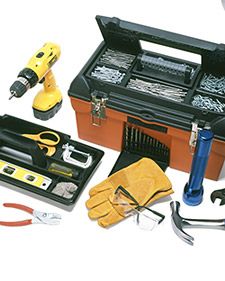 While not everyone considers themselves a Weekend Warrior, every homeowner should have certain tools on hand.  A small hammer and duct tape are just the basics every person should own, and while a large toolset isn't necessary, some items are. Keep this guide in mind the next time you head out to the home center or local hardware store. 
Toolbox:  It may seem obvious, but keeping everything in one place will save time when you need an item in a hurry, and keep the box in a dedicated place in your garage or storage closet.

 

Claw Hammer:  Every home needs a hammer, preferably with a clawed end to remove nails or for prying hard-to-open objects.

 

Adjustable Wrench:An adjustable wrench takes the place of a wrench set, and, hence the name, can adjust to most average-size bolts.

 
Screwdriver:  Most people have two standard screwdrivers: flathead and Phillips.  There are screwdrivers that have changeable bits for different sized screws, and they are especially convenient.

 

Pliers:  Many types of this versatile tool are available, and the basic design is perfect for all sorts of jobs.  You can get specialized styles:  needle-nosed, pliers with wire cutters–the choices are endless.  Get what you think is best for your needs.

 

Boxcutter/Utility Knife:  A folding or disappearing blade would be best for this tool, especially if you have children. It's a great tool to have for many uses, such as cutting insulation, trimming shingles, as well as repairing drywall.

 

25-foot Tape Measure:  You never know when you'll need to measure more than a yard-stick's length, and a 25-foot style is great for measuring rooms, or outdoor projects.

 

Cordless Drill: Brian Kelsey, host of the online video series, Kelsey on the House, says a cordless drill will become your "…most-used tool in your tool kit," 

 
Home centers will have an array of pre-filled toolboxes, and if that's what suits your needs, purchase one of those. But if you know what you want, assemble a custom tool set to use for all your home projects/minor repairs.  Bob Vila provides a list with some extras not listed here, so if you're a go-getter in the DIY field, see his recommendations for a little more than the basics. 
Access Teri's one-stop Orlando FL home search website.
Teri Isner is the team leader of Orlando Avenue Top Team and has been a Realtor for over 24 years. Teri has distinguished herself as a leader in the Orlando FL real estate market. Teri assists buyers looking for Orlando FL real estate for sale and aggressively markets Orlando FL homes for sale.
You deserve professional real estate service! You obtain the best results with Teri Isner plus you benefit from her marketing skills, experience and ability to network with other REALTORS®. Your job gets done pleasantly and efficiently.  You are able to make important decisions easily with fast, accurate information from Teri. The Orlando Avenue Top Team handles the details and follow-up that are important to the success of your transaction.
Get Orlando Daily News delivered to your inbox! Subscribe here!
Photo credit: pinterest