July 10th, 2015 by tisner
Are you an unmarried couple hoping to buy a home together? In today's culture, more unmarried couples are purchasing their first homes together. Mark Sheets, real estate author and blogger, offers some good advice about potential pitfalls to research before you buy.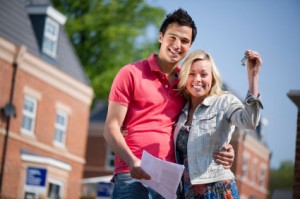 Financially, ownership of your home can be very advantageous. However, it can be more difficult to end a co-ownership than it is to get a divorce. So, you need to prepare in advance. You want to make sure the process gives both of you the outcome that you expect.
When making the decision to purchase a home with your significant other, you and partner must know that a property agreement is a legal contract. One of the more important aspects of purchasing a home together is determining how the investment will be split. In many cases, one partner may initially invest more money into the home than the other.  Unequal ownership can be handled, but it has its own set of problems.
Another issue to confront in the process is filing for a Joint Tenancy With Rights of Survivorship (JTWROS).  A JTWROS allows for the home and assets to be passed to the surviving partner if the other were to pass away. This lets the partner avoid inheritance taxes, as the home won't go through an estate.  Married couples are automatically granted JTWROS whereas unmarried couples are not.
If the relationship were to end, a dividing of the assets needs to take place.  Although everyone in a relationship hopes for the best, preparing for the worst-case scenario will alleviate a lot of pain in the future. The goal is to anticipate different scenarios under which you may want to dissolve the co-ownership.
When the time comes to apply for a mortgage, the lender needs to run both of your credit scores.  This can backfire if one of you has a great credit score and one has a not-so-good score.  If this is the case, then you may not get the loan. Investigate ahead of time to know where you stand. You will also want to check your individual state's laws regarding an unmarried couple purchasing a home together, as some states don't allow it.
An option to co-ownership might be for you to form a business partnership or a limited liability company to own the property. They are both legal business entities that can take on many forms. The business would then own the property and collect rent from the individuals living in the home. This eliminates any issues with state laws that prohibit co-ownership of unmarried couples. It potentially also makes transfer of ownership easier at a later date.
In any case, you must first consult a real estate attorney in your state to determine the pros and cons and to determine the best legal form of ownership to accomplish your goals.
Information provided by Orlando Realtor Teri Isner.
Access Teri's one-stop Orlando FL home search website.
Teri Isner is the team leader of Orlando Avenue Top Team and has been a Realtor for over 24 years. Teri has distinguished herself as a leader in the Orlando FL real estate market. Teri assists buyers looking for Orlando FL real estate for sale and aggressively markets Orlando FL homes for sale.
You deserve professional real estate service! You obtain the best results with Teri Isner plus you benefit from her marketing skills, experience and ability to network with other REALTORS®. Your job gets done pleasantly and efficiently. You are able to make important decisions easily with fast, accurate information from Teri. The Orlando Avenue Top Team handles the details and follow-up that are important to the success of your transaction.
Get Orlando Daily News delivered to your inbox! Subscribe here!