June 28th, 2022 by tisner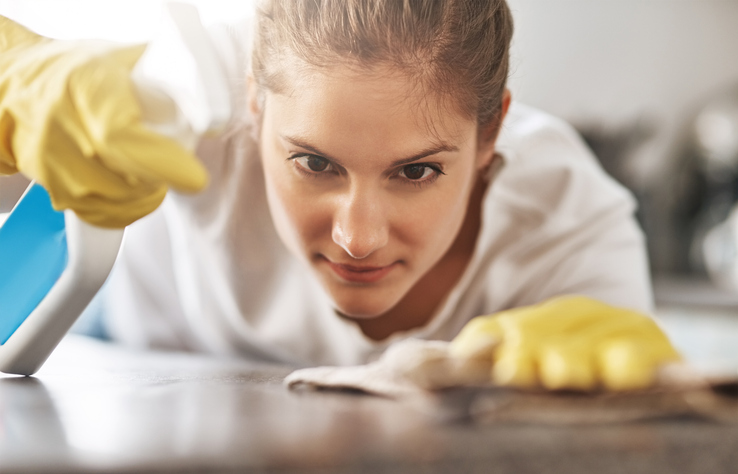 We spend a lot of time and effort keeping things clean, but are we thinking about how we can clean without damaging countertops, flooring, or other surfaces?  Proper cleaning keeps them looking good as new! 
Stainless Surfaces 
Regular wiping with plain warm water is your first defense in cleaning any stainless surface, followed by a microfiber cloth or paper towel drying. Get rid of fingerprints with  a glass cleaner containing ammonia.

 

For scratches, use a clean cloth with a few drops of mineral or olive oil.  Wipe in the direction of the grain, and minor scratches will disappear.

 
Countertops 
Countertops need daily cleaning, but they need disinfecting as well. Some chemicals in sanitizing products could be harmful, so to give surfaces some TLC while killing germs, use white distilled vinegar, hydrogen peroxide, or just good old hot, soapy water.

 

Mild soap mixed in warm water

is great for general cleaning, as well as keeping germs at bay for granite countertops. Applying bleach, ammonia or even acidic vinegar can be harmful, so spray with a mixture of rubbing alcohol and water if you need to disinfect. Having it resealed annually helps protect it, as well as maintain the germ barrier.

 

Quartz is a tough surface, but treat it gently; since it's a manufactured product, using anything to scour away an errant stain will scratch the surface. Warm, soapy water is best to keep it sparkling.  

 
Flooring 
Hardwood floors are fairly simple to care for: sweep often, and vacuum using the bare floor setting once a week. Chemical products for mopping are a no-no: a mop dampened with warm water and a mild soap is best, then rinsing any residue with a clean water mop.

 

Caring for tile is similar to hardwood using a damp microfiber mop and mild soap mixed with water.  As the floor is drying, buff with a dry microfiber cloth for a beautiful shine. 

Unsealed grout can be cleaned safely with a paste of baking soda and water applied with a soft brush.

  

 

Mix a half cup of vinegar in a gallon of warm water when mopping vinyl floors. (The odor will vanish after it dries, or you can add some lemon essential oil to combat the initial smell.) Remove scuff marks by rubbing the streaks with a tennis ball, melamine sponge (sold as "magic" eraser/sponges), or clean pencil eraser.

 
Advertisers bombard us with messages saying that we need their products to keep our homes clean and sanitized, and while those things are important, not all of those products are safe.  Natural cleaners and mild detergents mixed in hot water clean just as well while protecting the material of each surface.  
Access Teri's one-stop Orlando FL home search website.
Teri Isner is the team leader of Orlando Avenue Top Team and has been a Realtor for over 24 years. Teri has distinguished herself as a leader in the Orlando FL real estate market. Teri assists buyers looking for Orlando FL real estate for sale and aggressively markets Orlando FL homes for sale.
You deserve professional real estate service! You obtain the best results with Teri Isner plus you benefit from her marketing skills, experience and ability to network with other REALTORS®. Your job gets done pleasantly and efficiently.  You are able to make important decisions easily with fast, accurate information from Teri. The Orlando Avenue Top Team handles the details and follow-up that are important to the success of your transaction.
Get Orlando Daily News delivered to your inbox! Subscribe here!
Photo credit: Care.com
Google+ Comments