March 15th, 2017 by tisner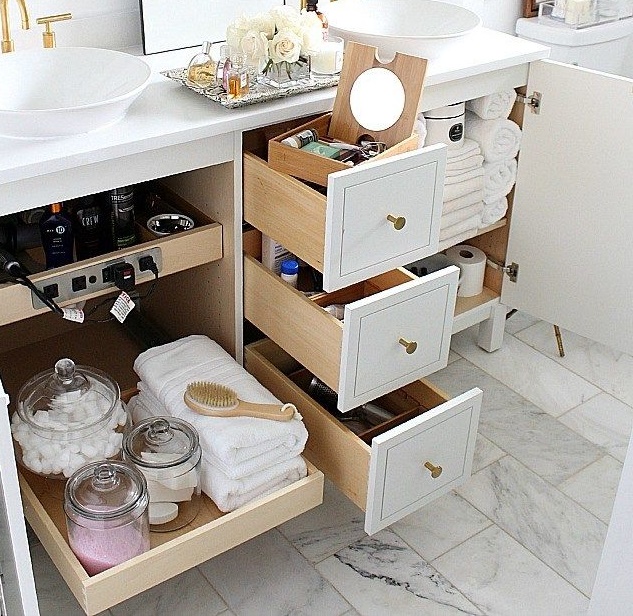 De-cluttering any room in your house can sometimes feel like a huge job to take on but for some reason de-cluttering the bathroom can seem to take on a whole life of its own.    Truth is there are many items in our bathrooms that we no longer use.   Take an hour or so to go through your bathroom with this list of tips for de-cluttering.
The first tip to de-cluttering your bathroom   is to do what was just mentioned, take the time to go through your entire bathroom looking for items you no longer use.  If you haven't used an item in the past week you should consider either getting rid of the item or at least finding a spot for it that will help to cut down on clutter in the bathroom.
Another tip for de-cluttering your bathroom is to throw out old toothbrushes. Some folks may not know this but you are supposed to change out your toothbrush once every three months to keep it from forming bacteria.   If you want to keep your old toothbrushes you could do so and perhaps use them as cleaning tools in other areas of the house.  You might find that they are good for such things as cleaning in between tiles and other small areas that you can't otherwise reach.
Take a look in your bathroom medicine cabinet when de-cluttering your bathroom. If you find medications that have expired, go ahead and toss them in the garbage right away.
Another tip for de-cluttering your bathroom is to toss out any old makeup or nail polish you may have stored away in a drawer.  Old makeup and nail polish will not work like it is suppose to so there is no use to keep it around.
If you have a lot of half empty shampoo and/ or conditioner bottles laying around your bathroom you can use what is left in them to refill your soft soap container. Throw out all the old bottles once you have used their contents to help de-clutter your bathroom in a great way.
If you have a lot of hotel soaps, shampoos etc, why not toss them into your gym bag and use them there to help make your bathroom less cluttered.
De-cluttering your bathroom is quite simple really; you just have to take the time to do it.  Once you do, I am sure you will like the clean fresh feeling you have as a result.
Access Teri's one-stop Orlando FL home search website.
Teri Isner is the team leader of Orlando Avenue Top Team and has been a Realtor for over 24 years. Teri has distinguished herself as a leader in the Orlando FL real estate market. Teri assists buyers looking for Orlando FL real estate for sale and aggressively markets Orlando FL homes for sale.
You deserve professional real estate service! You obtain the best results with Teri Isner plus you benefit from her marketing skills, experience and ability to network with other REALTORS®. Your job gets done pleasantly and efficiently.  You are able to make important decisions easily with fast, accurate information from Teri. The Orlando Avenue Top Team handles the details and follow-up that are important to the success of your transaction.
Get Orlando Daily News delivered to your inbox! Subscribe here!
Google+ Comments